Pepperl+Fuchs' New Reduction Factor 1 Sensors with IO-Link Combine Benefits of Two Technologies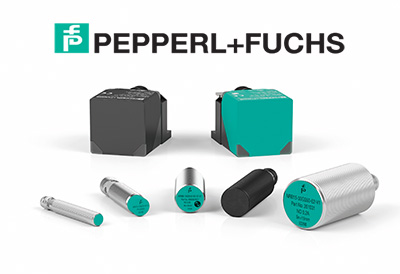 April 8, 2019
As the inventor of the world's first inductive proximity sensor, Pepperl+Fuchs has extended its portfolio to include reduction factor 1 sensors with IO-Link, providing users with even more flexibility, additional features, and diagnostic options.
Plant designers have long had to use different types of sensors or deal with time-consuming reconfiguration when tasked with detecting objects made of different types of metal. Standard inductive sensors can only detect non-ferrous metal targets at reduced switching distances. This is because reduction factors can vary from one metal to another. Pepperl+Fuchs' reduction factor 1 sensors circumvent this issue and unify switching distances for all types of metals.
Reduction Factor 1 Sensors with IO-Link—Identical Switching Distance for All Metals
The expanded portfolio of reduction factor 1 sensors is now setting a new benchmark for reliability and flexibility in welding areas, for standard use, and for applications that require cleaning operations-with or without IO-Link. Pepperl+Fuchs' inductive sensors with IO-Link offer both identical switching distances for all metals and new installation, diagnostics, and maintenance capabilities using the IO-Link device connectivity.
Predictive Maintenance Made Easy
New reduction factor 1 sensors with IO-Link are easy to configure via the PLC while data control functions can ensure automated reconfiguration through an IO-Link master in case a device needs to be replaced. The new sensors prove themselves in applications with mechanical tolerances that would lead to detection issues with standard sensors, and now with the IO-Link sensors' stability alarm, the system can be triggered in the event that the activation target drifts outside the assured operating distance. This function not only makes commissioning easier with a flashing integrated LED for visual indication of assured setup, but also makes predictive maintenance possible. If an activation target drifts from the assured operating distance due to mechanical influences-the intelligent sensor detects this condition, the integrated LED flashes, and the signal is automatically transferred to the control system. This is how intelligent sensing via IO-Link and the control system is used for smart automation and diagnostics in the modern application era.
If necessary, a reduction factor 1 sensor can serve as a temperature indicator that shows whether it is operating within the specified temperature range, or whether it is being exposed to a critically high temperature. These indicators provide early detection of temperature increases before the sensor or other sensitive system components, like those found in paint shops or foundries, may be damaged. With the help of the stability alarm and the temperature indicator, pre-failure information is continuously communicated so maintenance can be carried out prior to sensor fault.
Reliable and Cost-Effective, Even in Demanding Ambient Conditions
Weld-immune sensors are used for especially harsh industrial environments such as weld cell applications in the automotive industry. They are rugged and resistant to interference from magnetic fields during electric welding, weld spatter, and other such influences. Stainless steel versions, in contrast, withstand aggressive cleaning agents and are ideal for demanding applications, i.e., in the food industry or in chemical and pharmaceutical plants.
Other Features Available with IO-Link
In window mode, the sensor activates between two switch points and checks whether the object is located inside the defined switching window or is too close to the sensor and could possibly cause damage. In addition, the output signal extension improves detection reliability. This pulse extension is especially helpful in applications with fast-moving targets.

Another innovation is the possibility of switching between normally open and normally closed or between a standard and double switching distance. Pre-configured as double operating distance, this can be switched over to standard switching distance via IO-Link-four sensors are no longer necessary. With these features and the fact that you can get identical switching distances for all metals, users can reduce procurement, administration, and storage costs.

Highlights of the New Reduction Factor 1 Sensors with IO-Link
Complete IO-Link solution from a single source: sensors, masters, and infrastructure
Smart maintenance via stability alarm and temperature indicator
Flexible—a broad portfolio of sensors with identical switching distance, regardless of a target's material
Rugged, weld-immune sensors with IP68/IP69K protection for harsh industrial environments
Now available in a full range of technologies: inductive, photoelectric, and ultrasonic
Go HERE for more information