Leviton Releases My Leviton App Enhancements for Smart Electric Vehicle Charging Stations
April 18, 2023
Leviton, a leading provider in residential electric vehicle supply equipment (EVSE) and wireless smart home technology, has announced the availability of a major My Leviton app enhancement for the EV Series Charging Stations with app compatibility, which launched earlier this year. New capabilities include the ability to schedule charging sessions, remotely start and stop charging from anywhere and enable/disable access control.
"The feedback we received from My Leviton users with the initial Smart EV Series capabilities that we launched in January 2023 was very positive," said Andrew Taddoni, director of product management and business development for electric vehicle charging solutions for Leviton. "Part of that feedback included an interest in additional app functionalities, which we are excited to deliver to our customers in this app update."

Andrew Taddoni, director of product management and business development for electric vehicle charging solutions for Leviton
A major functionality included with the app update is the ability to schedule charging sessions in advance. This allows users to select more efficient charging times, such as scheduling during off-peak utility hours to save on electricity bills and even qualify for many residential rebate and incentive programs. Not only does this update allow for more efficient charging, it also provides station owners with greater flexibility and control over their charging. Using the My Leviton app, users can now remotely stop and start charging from anywhere if the vehicle is plugged in, ensuring their vehicle is charged no matter where they are at the time.
Additionally, the app can be used to enable/disable access control, ideal in applications like multi-dwelling units (MDUs) and shared parking areas where those besides the station owner can physically access the charger.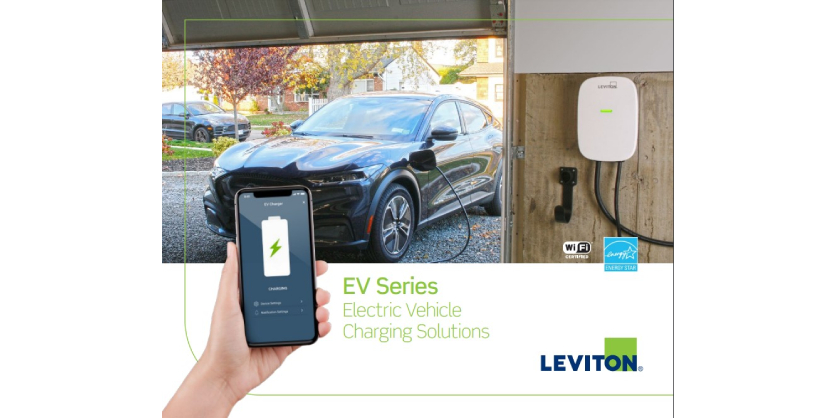 This app update is just the latest evolution of the Smart EV Series, which was re-designed to feature a sleek look and feel, a new Energy Star rating and higher amperages for faster vehicle charging. In addition to its compatibility with the EV Series charging stations, My Leviton app also allows for control of the Leviton Smart Load Center and Decora Smart™ Wi-Fi® product lines, letting users perform actions such as scheduling lighting scenes and viewing real-time load center energy consumption.
More Information
Leviton's electric vehicle supply equipment and support
Related Product
The LEV Series includes a full offering of IEC 60309-1 and 60309-2 pin & sleeve devices including plugs, connectors, receptacles, inlets, backboxes and mechanical interlocks designed to simplify installation, endure the harshest environments and improve safety and productivity. Devices with Inform technology provide smarter electrical connections by integrating with Industrial Internet of Things (IIoT) technology to support predictive maintenance schemes.