The All-New PISA-B Multi-Channel Electronic Circuit Breakers
April 27, 2023
The all-new PISA-B multi-channel electronic circuit breakers help you to optimize the availability of your DC 24 V systems right away and grow with your application.
Features and Benefits
Higher Availability

Identify and isolate individual faulty branches

Higher Reliability

Fast trouble-shooting via real-time LED matrix and alarm signal

Higher Flexibility

Easy system expansion – up to 64 output channels via bus bar connection

Higher Security

Integrated PIN protection and fail-safe feature

Higher Time savings

Push-in terminals for fast and toolless installation

Higher Packing density

8 channels, including + and – terminals, in a 52mm wide unit
PISA-B. The next generation of electronic circuit breakers. Protect Inform Secure Assist
Protect
Selective tripping of overloaded channels
In the event of a fault, PISA-B disconnects the affected channels only and ensures constant power supply to the remaining loads. This means individual faulty connections can be rapidly identified, isolated and rectified.
Two different output types
PISA-B features two types of output channels. Channel 1 and 2 are ideal for high capacitive loads up to 100mF and allow peak currents up to 12 A. Standard loads with up to 20 mF can be connected to channels 3 to 8 and are supplied with up to 10 A. You can choose between slow or fast tripping characteristics for all channels.
Inform
Instant current monitor
You can use the instant current monitor with LED technology at the front of the device to analyse and reset individual channels. The LED matrix helps to understand and evaluate your loads, detect peak currents and change your settings.
Alarm signal
The electronic circuit breaker informs you about tripped channels via an alarm relay contact (PISA-B-812-B1, PISA-B-8CL2-B1). An optional "digital coded alarm signal" provides information about the tripping status of individual channels (PISA-B-812-B4, PISA-B-8CL2-B4)
Reset feature
The additional reset relay contact allows switching the device ON and OFF or resetting all tripped channels remotely.
Secure
PIN protection
The new design of the PISA-B helps to avoid accidential operating errors or manipulation via a PIN protection feature. The settings can be locked with a 4-digit PIN code via the user interface on the front of the device.
Fail-safe switch
The fail-safe function is a back-up protection feature of the PISA-B. If one of the channel switches fails to open, the fail-safe function kicks in. Therefore an electronical switch is used instead of a traditional melting fuse. The electronic circuit breaker monitors the total current and can react much earlier, if the current becomes too high. This feature can save your lines from overheating.
Assist
Compact design
The compact product design helps you to save space. The electronic circuit breaker includes plus and minus distribution terminals, with a total width of only 52mm – that means 6.5mm per channel.
Modular design
PISA-B allows an easy and fast expansion of your system. Up to 8 devices can be connected in parallel via bus bars. This sums up to 64 channels in total.
Push-in terminals
PISA-B also assists you with a tool-less push-in technology. The terminals are optimized for automated wiring processes.
PISA-B gives you more of everything. Except effort.
PISA-B is the most efficient electronic circuit breaker (ECB). It distributes the current, protects your loads from over-current or short-circuits and monitors the operating status in DC 24V systems. The 8-channel programmable capability can identify and isolate individual faulty branches. It shuts down the affected channels only and secures the constant power supply of the remaining loads.
An integrated data monitoring reports the operating status to a PLC or control center. The electronic circuit breaker also alarms in case of an error and allows a remote reset of the channels. The new PISA-B is based on a modular product design. Up to 8 PISA-B electronic circuit breakers can be connected in parallel by using bus bars. This results in up to 64 channels.
Smart power distribution and load protection. Improve and simplify your application.
Miniature circuit breakers Solution with standard MCBs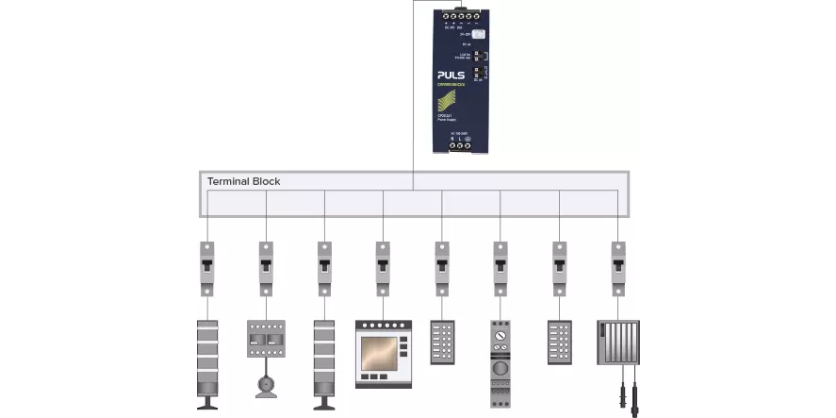 This setup is quite risky for industrial applications. MCBs were originally designed to protect the cable runs in buildings on the AC side – not the system itself. Additionally this solution will not inform your condition monitoring system about the current system status or occurring errors.

Electronic circuit breakers Solution with PISA-B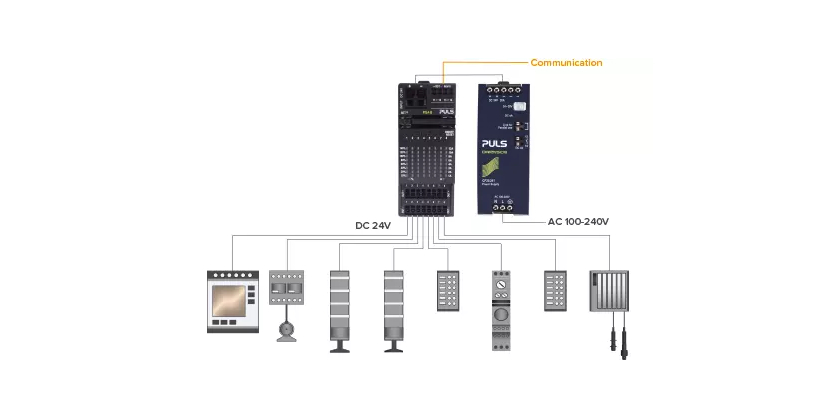 With a PISA-B solution you are on the safe side. The electronic circuit breaker will reliably secure your system components from overload and short-circuits. You will immediately be informed via the alarm signal. All other loads stay unaffected and keep your system running.
Your industry in focus. Limitless applications.
PISA-B for automotive industry
PISA-B electronic circuit breakers are used in conveyor control systems in the manufacturing lines of big automotive companies
Loads: I/O module, display monitors, camera controls, PLC
Benefits
Compact solution
Adjustable tripping characteristics
High reliability
For factory automation
PISA-B electronic circuit brakers are the perfect supplementary units for modern factory automation. They are already in use for power distribution for conveyor belts and sensors,
Benefits
Two channels for high capacitive loads
Communication interface for PLC
Direct access to measured application values
For machine building
PISA-B electronic circuit breakers are already used in various machines, line packaging machines, injection molding machines or CNC machines.
Benefits
Precise and fast tripping in the event of overcurrents
Compact size
Wide temperature range
PISA-B for an endless number of other applications
More Information
Related Story
MTBF is the measure for the reliability of a device or system component. In this blog article you will learn what exactly is meant by MTBF, why it is an important quality indicator for power supplies and how it differs from service lifetime.
The term MTBF appears in the data sheets of various technical system components and often causes confusion. This is mainly due to the different calculation methods and the risk of confusion with the service lifetime of a device. At Puls, many R&D specialists deal with both parameters on a daily basis. With this knowledge, we bring a little light into the darkness in this blog article.