A Modular System for Manual Workpiece Direct Clamping in a Wide Range of Applications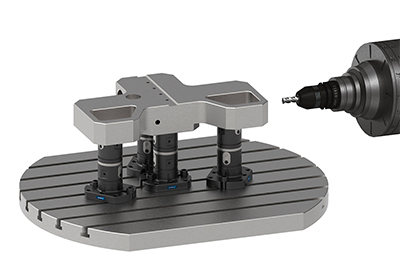 June 31, 2019
One single turn of the tightening screw is sufficient for secure connection of clamping modules, either with one another or with the corresponding basic modules. With no compressed air required for this, the clamping modules can be used independent of the pneumatic system in external tooling stations for instance or in a very wide variety of machines. These can be combined with nearly all types of machine tables by means of flexible fastening systems. Key elements of the series are basic modules in the heights 75 mm, 125 mm, 150 mm and 175 mm, which can be combined using add-on modules at heights of 75 mm, 100 mm or 125 mm. In addition the program comprises a wide variety of different clamping bolts that can be integrated according to the size and shape of the relevant workpiece. Various reduction adapters enable 5-sided machining free of interference contours. Freeform surfaces can also be clamped quickly and easily via height adjustment adapters. VERO-S WDM-5x therefore offers a suitable clamping solution for all workpiece geometries.
Individual clamping modules of the series VERO-S WDM-5X can be combined in no time at all using an Allen key to create clamping pillars of definable heights.
Pneumatically actuated alternative
The pneumatically actuated series VERO-S WDP-5X, known on the market under its previous designation VERO-S WDB, is just the ticket for those in search of greater comfort. Regardless of the height of the clamping pillars, the direct clamping modules are supplied with compressed air here via a media transfer unit that is registered for patent and locked via a force-locking and positive-locking connection with pull down forces of up to 25,000 N (with 50 Nm actuation moment). An integrated pull-down function ensures maximum hold and thus the great possible stability. The actual workpiece clamping takes place in an energy neutral manner via spring force; it is a self-locking and form-fit clamping. The workpieces remain safely clamped even if the pressure in the air system were to drop suddenly. Presence of a workpiece can also be detected with the VERO-S WDP-5X.
Go HERE for more information