Rexroth On the Right Track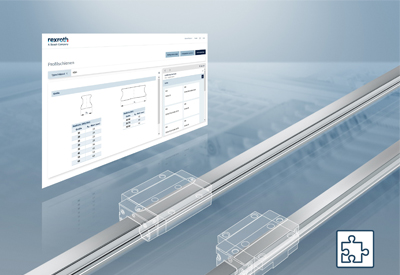 January 11, 2018
Rexroth's new online configurator for profiled rails expands its digital tool chain for linear motion technology components and systems. The practical software guides users through the configuration process for standard ball rails, roller rails, miniature ball rails and cam roller rails. Users can also configure the ball rails and roller rails with the integrated measuring system IMS.
With just a few mouse clicks, users can decide on the design, material, mounting and accuracy class for the profiled rails in the new configurator. The databases working in the background contain all variants of the catalog range. At the beginning, users decide whether to configure the profiled rail system with or without the integrated measuring system IMS. This can measure as precisely as a glass scale but is not sensitive to contamination, vibration or electro-magnetic fields. IMS uses the principle of non-contact measurement and is wear-free. The integration of position measuring into the profiled rail system saves installation space and reduces assembly costs.
For every step the configurator provides contextual additional information via an Info button. The developers based the new configurator on a user experience design approach. The manufacturer can supply single-piece rails with a maximum length of up to 6,000 mm. In the case of multi-piece rails, the configurator saves users time by suggesting the lengths of the parts. The lengths of the parts can graphically amended with the mouse. Rexroth manufactures these parts with clearly marked ends, ensuring straightforward assembly. The next version of the online configurator will enable users to also configure additional front-side and vertical processing.
Once the profiled rail has been fully configured, the CAD data are available to download. After logged into the eShop, Rexroth customers immediately receive information regarding the price and expected delivery date. Rexroth is driving forward the digitalization of linear motion technology with a consistent tool chain. It ranges from the calculation to the configuration of all linear motion technology components and systems. This digitalization is considerably reducing engineering times for machine manufacturers and system integrators. All tools are available free of charge on the company's website.
Source: https://www.boschrexroth.com/en/xc/company/press/index2-33984