Condition-Based Maintenance service predicts when drive components need replacing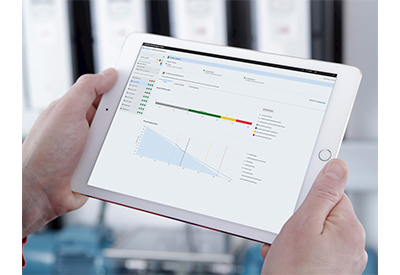 October 15, 2019
ABB has extended the scope of its ABB Ability Digital Powertrain concept that connects drives, motors, pumps and bearings with a new Condition-Based Maintenance service option for drives. This new option provides the earliest possible warning of any abnormal conditions that might cause a drive to fail prematurely. The service is targeted for drives in critical applications in the oil and gas, metals, water and wastewater, and pulp and paper industries, where it is essential to avoid costly unplanned plant shutdowns.
The Condition-Based Maintenance service continuously monitors key components in a variable speed drive (VSD) – the fans, the semiconductors, and capacitors. Thermal, voltage, and power sensors collect data on the ambient temperature and load variations of the components and measure the daily impact on their lifetime. Cloud-based algorithms and statistical analysis estimate the level of stress on components and calculate their remaining life.
If failure is predicted before the next planned maintenance operation management can make a fully informed decision to take action and prevent an unplanned shutdown. In some cases, the Condition-Based Maintenance service could indicate that the drive components are under less stress than normal and will last longer than expected. Therefore, regular preventive maintenance intervals can be extended to increase productivity and reduce costs.
"Condition-Based Maintenance provides precise, high-quality data that enables the delivery of efficient, targeted maintenance programs," says Stefano Legnani, Global Service Product Manager ABB Ability™ Digital Powertrain. "The quality comes from the continuous data collection that makes it possible to reach detailed conclusions about the drive's life cycle. Our cloud-based approach makes analysis easier and faster, so maintenance activities are planned based on the actual need."
The Condition-Based Maintenance service had an early practical trial with a major customer in the steel processing industry. The IGBT component in a drive operating the rolling mill was identified as working at a high-stress level. The lifetime estimate showed that the component had reached its remaining useful lifetime, yet it was not replaced. Four months later it failed. Following its replacement, Condition-Based Maintenance analysis indicated that the newly installed IGBT in these cyclic applications should be changed in five years to avoid unexpected failure.
The ABB Condition-Based Maintenance service is available initially for ACS800 and ACS880 air-cooled drives. The accuracy of the remaining life prediction will vary according to the specific application. However, in many cases the failure of a drive component can be predicted one or even two years ahead.