Rittal launches its Summer Cooling Promo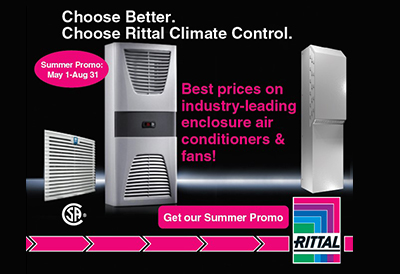 May 3, 2019
Just in time for summer, Rittal has launched its popular Summer Cooling Promo on its best-selling CSA-approved enclosure air conditioners and fans! From May 1- Aug 31, 2019, companies across Canada can take advantage of the special promo prices to stock up on the enclosure cooling systems that help decrease enclosure energy costs while enhancing efficiency.
"Heat can damage equipment inside an enclosure and lead to system failure. This is why installing a cool­ing solution from an industry leading supplier is a critical factor in extending a system's life. It's imperative that engineers design the system to take into account temperature build-up and the presence of water," said Tim Rourke, President, Rittal Systems Ltd.
Rittal's Blue e Climate control systems offer unmatched energy savings and cool features, while their top-notch roof-mounted fans are NEMA 12 out of the box, and NEMA 3R/4/4X with the rain hood.
The new stainless-steel variants of the Blue e+ cooling unit series have been specially developed for demanding environmental conditions. Their stainless-steel enclosure makes them suitable for applications where high levels of corrosion protection are needed. Typical examples are the food and beverage industry, where frequent cleaning is required, as well as the process industry sector. The stainless-steel cooling unit versions, which meet protection category IP55, are now available from stock as standard. Like the previous Blue e+ units, they operate with highly energy-efficient hybrid technology and are available with five different cooling outputs ranging from 1.6 kW to 5.8 kW.
Hybrid technology saves energy
Hybrid technology consists of a combination of heat pipe and conventional compressor technology. In many cases, for instance, when the outside temperature is comparatively low, the heat pipe provides a sufficient cooling output. Their energy consumption is very low, since no compressor is needed to operate them. The supplementary compressor cooling is only used if a higher cooling output is demanded. Since all the components of the compressor cooling are speed-controlled, their operation is also very energy-efficient.
Moreover, the temperature hysteresis is very small, which prolongs the service life of the components installed within the enclosure. Overall, depending on the environmental conditions and application, the Blue e+ units consume an average of 75 percent less energy than conventional compressor cooling units. Their multi-voltage capability also means that the cooling units can easily be operated internationally, at all common mains voltages and frequencies.
User-friendly operation
Operation is user-friendly and intuitive thanks to a modern touch display, which is used to make the basic settings and to display the status messages. As well as operating directly via the cooling unit itself, a smartphone app is also available that offers an almost identical user interface. Another option available is the IoT interface, which makes it simple to integrate the cooling unit in an Industry 4.0 (IoT) environment.
What's New: Type 3R/4 air conditioners for outdoor protection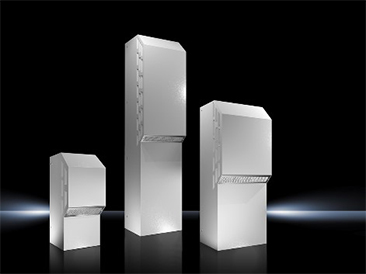 Also included in the summer promo, are Rittal's Blue e, Wall-Mounted, UL Listed, Type 3R/4 air conditioning units – an excellent choice for in­door or outdoor enclosures where water is an issue, such as waste water facilities, transportation and toll booths, outdoor kiosks, and food and beverage facilities. These air conditioners provide protection from the harmful effects on equipment due to the presence of water and external formation of ice. Rittal's use of nanotechnology helps resist filiform corrosion on condenser coils which offers greater energy efficiency. Rittal's coated condenser coils do not affect the cooling capacity of the unit and in most cases a filter is not required. This also enables longer intervals between service maintenance.
Rittal's closed loop system maintains a Type 3R/4 rating and creates an environment in the enclosure that is cooler inside than the surrounding temperature. With an internal temperature set point of 95 °F, Rittal air conditioners are designed to operate at temperatures up to 122 °F.
Rittal has set up a special page with the Summer Promo flyers and all other relevant climate control assets at www.rittal.ca/climatecontrol.