Siemens announces industrial application hosting platform for cybersecurity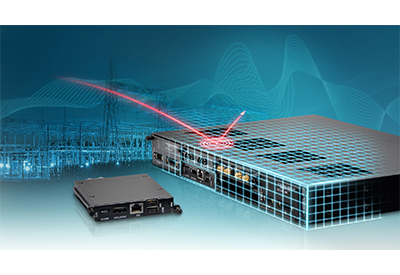 September 3, 2019
Siemens has expanded the Ruggedcom Multi-Service Platform product family of utility-grade communication devices by introducing a new, more powerful version of the Ruggedcom APE (Application Processing Engine) – an industrial application hosting platform designed for running third party software applications in harsh, mission-critical environments.
The Ruggedcom APE1808 is a member of the Ruggedcom RX15xx product family of cost-efficient, utility-grade Layer 2 and Layer 3 switches and routers. This modular and field replaceable platform allows customers to select amongst WAN, serial and Ethernet options. It is ideally suited for electric power utilities, rail and traffic control systems. Leveraging the built-in switching and routing capabilities of the Ruggedcom RX1500 Multi-Service Platform, the Ruggedcom APE1808 is a module that plugs directly into any member of that family. Ruggedcom APE1808 provides one Gigabit Ethernet link on the front of the RX1500, and another equal, but completely separated link to the backplane of the RX1500 chassis.
Ruggedcom APE is available with optional conformal coating and is qualified for operating ambient temperatures of -40 to +75 degrees Celsius. It meets all the electrical specifications of the Ruggedcom RX15xx platform, namely IEC61850-3 and IEEE 1613 for operation under some of the harshest industrial conditions. Based on Intel quad core, x86_64 architecture with support for Linux and Windows 10, the Ruggedcom APE1808 provides a standards-based platform for commercially available software, enabling partnerships with industry leaders in cyber threat detection and prevention.
The new Ruggedcom APE1808 excels in a range of applications such as firewalls, network log and load processors, and intrusion sensors. It can analyze data at the source and without adding the complications of installing an external industrial PC. The Ruggedcom APE1808 and the cybersecurity solutions are developed for Electric Power, Transportation and Oil&Gas industries, but can also be used in any harsh industrial environment to protect the networks against a growing number of cyberattacks.
The Ruggedcom cybersecurity solutions portfolio provides access to a variety of advanced cybersecurity applications developed by industry leaders through a newly announced partnership with companies such as Fortinet, Nozomi Networks, Secure-NOK or Claroty. Siemens customers will benefit from these companies' expertise in securing industrial networks against constantly evolving threats. The following solutions will be provided on the Ruggedcom Multi-Service Platform with certified partner applications from Fortinet, Nozomi Networks, Secure-NOK or Claroty: Intrusion Detection System (IDS), Intrusion Prevention System (IPS), Deep Packet Inspection (DPI), Next Generation Firewall (NGFW).
Ruggedcom APE1808 is the key product in the growing Siemens cybersecurity solutions and service portfolio, which includes comprehensive network consulting services, security assessments, integration, deployment, training and on-site support.