IronHorse Stainless Steel Worm Gearboxes from AutomationDirect
July 3, 2023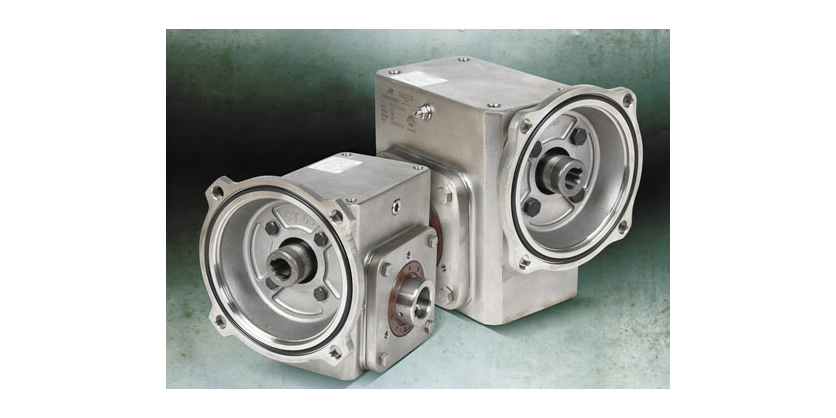 AutomationDirect now offers IronHorse stainless steel worm gearboxes. Worm gearboxes are power transmission devices that drive a load at a fixed reduced ratio of a motor's speed. The stainless steel housings of these gearboxes make them suitable for the food and beverage industry and many other harsh industrial applications.
IronHorse stainless steel worm gearboxes are IP69K rated and BISSC certified (Baking Industry Sanitation Standards Committee) with the housing, covers, and flanges all made out of 304 stainless steel. They are available in gear ratios from 5:1 to 60:1 and the input flanges accept 56C or 145TC motor frames.
All IronHorse stainless steel worm gearboxes have a hollow shaft output. Single and dual output shaft kits are available as are shaft bushings if you wish to connect the gearbox to a shaft that you provide. Compatible output covers and output flanges are also available.
The new IronHorse stainless steel worm gearboxes come with a one-year warranty and start at $1,050.00.
More Information
IronHorse stainless steel worm gearboxes
Related Product
New to motor control products are IronHorse manual motor protectors, contactors, thermal overload relays, and a wide variety of supported accessories. The IronHorse HMC series contactors are a very economical solution and feature an advanced design with a sealed structure to prevent arc flash exposure; electronic coils are available on select models. HMC series 3-pole contactors have built-in auxiliary contacts, are available in a variety of coil voltages and in seven frame sizes, with ratings from 5 to 300 hp (400A) at 480 VAC.