New Economical Festo ELGC/EGSC Drive Series Ideal for Lightweight Applications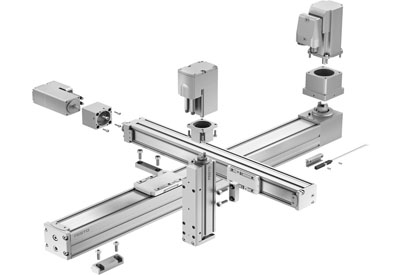 April 10, 2018
Festo is further augmenting its extensive portfolio of electric handling systems with the new ELGC/EGSC drive series, an economical solution for customers requiring high precision in large-volume, lightweight applications. This low-cost series includes ELGC spindle axes and toothed belt axes, EGSC mini-slides as well as axial and parallel kits of ideally paired servo and stepper motors.
These drives and mini-slides are well-suited to a wide range of applications such as printed circuit board production, desktop systems, electronics testing, pick and place sampling in medical laboratories or sub-processes like handling, gluing and dispensing, even under cleanroom conditions. Their compact design and choice of motor kits make them an excellent fit where space is at a premium.
With their common platform architecture, these new Festo drives can be utilized as single axis systems or joined to form multi-axis systems like cantilevers, pick-and-place solutions, or linear 2D gantries or 3D gantries, all without the need for external adaptors or special assembly tools or knowhow. Two ELGC drives or an ELGC and EGSC mini-slide are easily combined. The ELGC axes boast a protected recirculating ball bearing guide and are ideal for XY-movements and vertical Z-movements. The resilient EGSC mini-slides with quiet spindle operation are ideal for vertical Z-movements or guided linear individual motion in any mounting position. The high performance drive and guide elements of these new Festo drives deliver excellent load carrying ability and repetition accuracy (up to ±0.003 for spindle axes, ±0.015 mm for mini-slides and ±0.08mm for tooth belt axes) and ensure long service life.
Festo in Social Media:
Facebook www.facebook.com/FestoCanada
Twitter www.twitter.com/FestoCanada
LinkedIn www.linkedin.com/company/festo-canada
Youtube www.festo.com/youtube