SEW P Series: Increase in Torque of up to 26%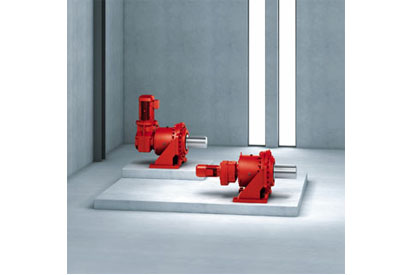 August 17, 2020
P Series
Our P series is the ideal drive solution for machines with high torques and restricted installation space. A gearmotor is directly coupled to the planetary gear unity:
Compact and cost-efficient:
No coupling
No intermediate flanges
No adapter flanges
The torques of the individual sizes were increased by up to 26%:
Rated torque now ranging from 25 to 631 kNm.
Cost savings and optimization of space by choosing smaller and more compact planetary gear units.
Application for P gearmotors: Anywhere you need to move heavy weights at a low speed.
Your Advantages
SEW delivers a complete drive whose components are optimally matched.
Higher radial loads than comparable drive solutions.
A planetary gearmotor is more cost-effective than a stand-alone planetary gear unit, adapter, coupling, and motor.
A planetary gearmotor is more compact (shorter), as intermediate elements such as adapter flanges and couplings are not necessary.
A large number of variants ensures optimum adaptation to the application.
Finely graded gear ratios due to the high variance of the SEW gearmotor at the input end.
Short delivery times for standard variants of 4 – 16 weeks, depending on the frame size.
Standardized planetary gearmotors up to MN2 = 631 kNm as catalog products.
The required data and dimension sheets for project planning are available immediately via comprehensive documentation (catalog, operating instructions).
Quick creation of 3D models and 2D dimension sheets in the freely accessible DriveCAD tool.
Comprehensive range of additional components available from the entire SEW modular concept.
Comprehensive worldwide sales and service network.
SEW as system and solution provider who supplies complete drive systems from one source.
For more information, click here.