Ultra-Efficient, Baldor-Reliance® EC Titanium™ Motors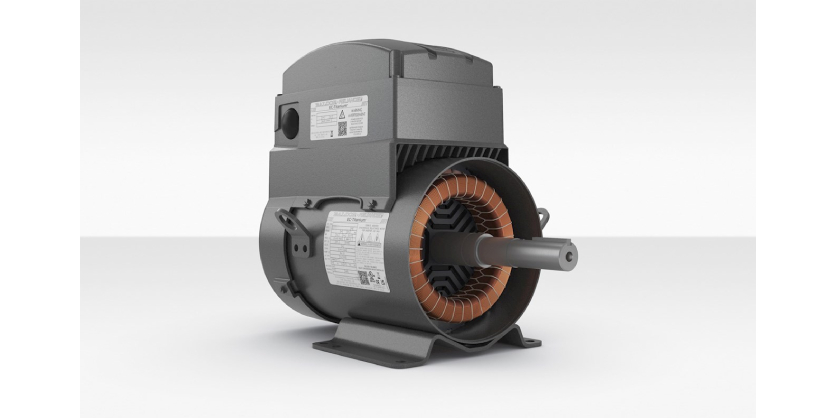 ABB Expands its Family of Award-Winning, Ultra-Efficient, Baldor-Reliance® EC Titanium™ Motors
March 8, 2023
Integrated motor-drive design available in both NEMA and IEC frame
Multi-motor function allows one variable speed drive to control as many as 16 EC Titanium motors
Plenum use design allows for safe operation of fan systems in pressurized plenum space
IEC frame integrated motor-drive
ABB has added IEC frame options to its integrated motor-drive offering of Baldor-Reliance EC Titanium motors. Standard features include aluminum housed top-mount of axial mount integrated drive, IP55 enclosure, internal shaft grounding brush and class-F insulation. EC Titanium motors are rated for inverter use per IEC 60034-18-41. The IEC integrated motor-drive is capable of operating as a top-mount drive in ratings of 1 to 10 HP (0.75 – 7.5 kW), or axial-mount drive in ratings 1 to 7.5 HP (0.75 – 5.5 kW).
ABB ACH580 variable speed drive to control as many as 16 EC Titanium motors
EC Titanium motors incorporate a highly efficient rotor technology, and when paired with ABB's ACH580 variable speed drive, the platform provides a superior and sustainable solution for fan arrays in HVAC applications. With the patent-pending simple firmware update, a single new or installed ACH580 drive is able to operate as many as 16 EC Titanium motors, saving significant space and component costs.
ACH580-01 drives produce exceptionally low harmonic content and exceed requirements set by low harmonic standards, making these the ideal drive to control EC Titanium motors. Lower harmonics and full motor voltage at all times mean reduced system losses, better overall system efficiency, higher reliability and extended equipment life.
Plenum-use design
EC Titanium is also available in a plenum-use design, which replaces plastic external parts with aluminum to reduce the risk of fire hazards and noxious fumes in environmental air spaces. Bluetooth capability is removed from the plenum-use integrated motor-drive model, a requirement for certain applications – such as data centers – which prohibit broadcast communications.
Baldor-Reliance EC Titanium combines synchronous reluctance and permanent magnet technologies for the most efficient motor available in the market today. The rotor design incorporates no rare earth elements, resulting in a motor solution that is highly efficient, quiet, reliable and easy to operate – all in an eco-friendly package.
EC Titanium is offered in two styles: stand-alone motors and integrated motor-drive units, both of which exceed the IE5 efficiency level. They offer excellent performance across a wide speed load range and above base speed conditions. Additionally, the integrated motor-drive solution saves considerable control panel space and reduces wiring costs by placing the drive on top of or on the opposite drive end of the motor.
ABB is a technology leader in electrification and automation, enabling a more sustainable and resource-efficient future. The company's solutions connect engineering know-how and software to optimize how things are manufactured, moved, powered and operated. Building on more than 130 years of excellence, ABB's ~105,000 employees are committed to driving innovations that accelerate industrial transformation. www.abb.com
ABB Motion keeps the world turning – while saving energy every day. They innovate and push the boundaries of technology to enable the low-carbon future for customers, industries and societies. With their digitally enabled drives, motors and services they can deliver the optimum drive and motor solution for a wide range of applications in all industrial segments.
Through ABB's global presence they are always close to serve their customers. ABB Motion achieved revenues of $6.9 billion and an Operational EBITA margin of 17.1 percent in 2021. The Dodge business that was divested at the end of 2021 contributed with revenues of approximately $540 million and supported the Operational EBITA margin by approximately 50 basis points. The business area has roughly 22,000 employees in seven divisions worldwide.
More Information
Related Video
ABB's Baldor-Reliance® EC Titanium™ motors are highly efficient integrated motor/drive systems that combine innovative, eco-friendly technologies for a sustainable, wirelessly connected solution. EC Titanium motors are available as an integrated motor/drive system or stand-alone motor unit, designed to be paired with a variable speed drive.