The Importance of Industrial Cable Resistance to Chemicals and Oils by HELUKABEL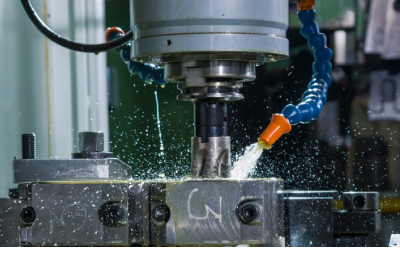 June 27, 2022
The global wire and cable market worldwide is estimated to grow from $335 billion in 2021 to nearly $427 million by 2026 according to a report by Research and Markets. The market is expected to grow annually by about five percent over the next five years. This continued growth is being driven by the increasing demand for electric vehicles, industrial automation products and infrastructure cables.
The low voltage market (<1000V) has a wide range of applications that include power, control, lighting, signal, data, audio and computer. These types of cables are found in homes and offices, both internal and external. Cables used in homes and offices are relatively clean environments with relatively little continuous movement and UV exposure once they are installed. When it comes to many of these markets, chemical and oil resistance are not major concerns.
One market that does require attention to environmental impact is the industrial market such as machine tools, chemical processing plants, food and beverage processing, manufacturing and assembly, oil and gas, to name a few. All of these industrial segments expose the cables and wires to very harsh chemicals, cleaning agents, solvents and oils that will leave unprotected cables, and the equipment they support, useless if the cables aren't resistant to these organic and inorganic substances. When compared to the overall market, the industrial segment requires some of the most technically advanced compounds in order to resist the chemicals and oils found in industrial environments, while still being flexible, UV and flame resistant. HELUKABEL addresses these requirements with our industrial cable offering that covers a wide array of power and data cables.
Jacket Compound Types
The primary purpose of a cable jacket is to be the outer covering or barrier that protects the conductors from the chemicals, oils and other environmental substances that they are exposed to. The cable insulation or inner jacket's sole responsibility should only be to keep the current flowing through the conductors it covers. When you talk about data, computer or signal cables, the insulation also provides the least amount of resistance to signal propagation.
There are many types of plastics used to resist oil and chemicals. Some of the better compounds are polyurethane (PUR), fluorinated ethylene propylene (FEP), and thermoplastic elastomers (TPE). HELUKABEL offers all of these options, but one of the best-performing options for this market is PUR. In the industrial machine tool industry, as an example, PUR cables used to provide motor power and feedback oftentimes can be immersed in oil and synthetic-based cutting fluids around the clock. Their performance has led them to be the standard in the machine tool market for more than a century. Many design and maintenance engineers often refer to these cables simply as "PUR cables".
From a cost perspective, PVC-jacketed cables are less costly and while developments in additives and blending (different types of plastics) have allowed PVC cables to have more applications in the harsh industrial markets, their longevity to harsh chemicals and oils can't be compared to PUR.
Visual Indicators of PVC Cables Being Affected By Oil Exposure
Cracking
Oil or chemical exposure has resulted in the complete removal of plasticizers. This hardens the insulation and jacket, which makes them brittle and more susceptible to cracking/breaking.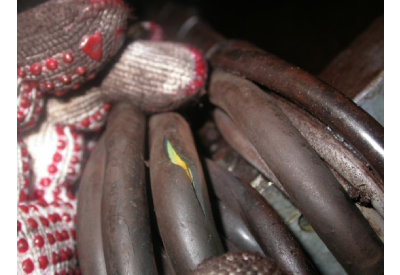 Swelling
Oil or chemical exposure has resulted in the migration of the oils into the plasticizers. This results in noticeable diameter increases to the insulation and jacket.
Melting
Oil or chemical exposure has been absorbed and combined with the plasticizer. This softens and makes the compound more elastic than intended.
Discoloring
Oil or chemical exposure has resulted in diffusion of the plasticizers along with colorant from the insulation and jacket.
Jacket Compound Resistances
Certain harsh chemicals and oils will cause a jacket to melt, swell or crack the longer it is exposed to these substances, which can be exacerbated by other environmental factors such as temperature. UL/CSA/VDE/ are testing agencies that provide guidelines for cables to make sure they will function properly in applications where harsh chemicals and oils are present. Some UL-specific approvals are machine tool wire (MTW), tray cable (TC) and service cordage (e.g. ST, SO and DLO). Cable types that meet these approvals are PVC, PVC/nylon, TPE or rubber compounds.
PVC-based cables have become a growing business for cable manufacturers because the performance of PVC, through compounding and chemical and fire-resistive additives, has increased greatly over the past decade. Recent changes in UL certification, i.e. the expanded use of tray cable with exposed run (TC-ER) approvals, have opened up more applications for these cables on the industrial floor. With the exposed run approvals, cables that used to only be allowed by the National Electric Code (NEC) in protected environments are now allowed to extend beyond the protected compartments like a tray and be exposed to bus drops and external wiring applications. This change made tray cable include requirements for oil resistance similar to service cordage or MTW cables.
Two of the approvals for UL tray cable are Oil Res I and Oil Res II. In both of these approvals, oil resistance of the cables is required to meet the resistance requirements to IRM 902 (Hydrotreated Heavy Naphthenic Compound). This oil-based compound used as a universal testing agent for resistance replaces ASTM 1 and 2 oils that were used for testing in the past. A cable manufacturer's competence is not really in conductor development, i.e. copper, aluminum or fiber (glass or plastic), but in plastic compounding for insulations and jackets. Finding the right materials and sometimes blends that provide the best flexibility, chemical and oil resistance, heat range, flame retardants, and UV resistance, while still meeting agency approvals is the key to meeting customers' requirements.
Sometimes, the best solution for cable in Europe (VDE or Harmonized) or China (CCC) is not the accepted choice in North America (UL and CSA). Each continent has different priorities as far as flame retardant, smoke density, chemical resistance and halogen content. Customers sometimes need to specify different cables for different parts of the world to meet their requirements and the approvals required in those countries. There are a few globally approved cables, but they tend to not be as worldly upon deeper review due to the varying conductor color codes between the US and the rest of the world, and conductor size (metric vs. AWG sizes are not exact and require equivalents).
Cables used in industrial environments are exposed to many different types of environmental conditions like chemicals, corrosive fluids, dirty or abrasive compounds, high or low temperatures, and UV rays. There are many jacket material options used for cables in these environments. Choosing the right material – PVC, FEP, TPE, PUR, rubber or blends is important to eliminate downtime on a factory floor.
UL Oil Exposure Tests for Industrial Cable
HELUKABEL has extensively tested its industrial cable and has the knowledge of what materials are best suited for the environment where they will be used. Combined with an array of global approvals on our cables, we can provide the right product that is resistant to the environment and still the necessary for the installation requirements. We have been a leading manufacturer of cable and wires since 1978 and will continue to develop cable products to remain at the forefront of technological advancement within the industrial sector.