Rockwell's Automation Fair, Advancements for Today and Tomorrow
November 29, 2019
On November 20 and 21st Rockwell Automation hosted its annual Automation Fair and Drives & Control Solutions was in attendance. The show was kicked off by President Blake Moret who welcomed attendees and Rockwell's partners and announced the formation of its new Digital Partnership Program and expansions of existing partnerships and collaborations.
The fair had over 19,000 registrants from the US, Canada and around the world and 150 exhibitors along with extensive Rockwell booths showcasing their wide range of products and solutions. The show also hosted dozens of information sessions and hands-on labs, several of which we attended.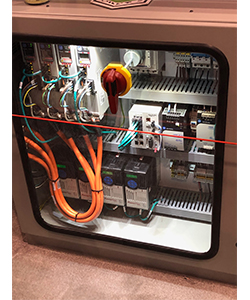 One of the most interesting sessions was in Rockwell's Innovation booth where John Protchard of Rockwell introduced us to a variety of developing solutions that will be coming to market in the months and years to come. These included advances for connected workers, digital engineering for robotic digital twins and the complete Virtual Reality digital twin of a plant floor. I had the opportunity to test the VR system and see firsthand the potential savings for development of new facilities.
A good example of this was the VR experience in the digital twin of a potential canning facility. In VR you could walk through the virtual plant to determine inefficiencies or poor location of assets. Using the VR, we were able to determine that a worker standing at the proposed operator location was blocked from the light tower placed at the end of the line. This seems a simple thing, however the costs of recognizing this after the plant has been build could carry substantial costs, as well as potentially delay operations. Digital twins coupled with VR can eliminate some of these concerns.
Because these are developing innovations Rockwell was also showcasing solutions to gain feedback from users on the application of some of their potential products. One such featured product was a voice enabled control for plant operations. We were able to test the voice application on the loud show floor to see just how well the voice filters and control would be. Rockwell in this sense is not just hosting the fair to educate users but actively seeks feedback on solutions to both see if products would be applicable, and to learn about new product directions directly from those implementing them.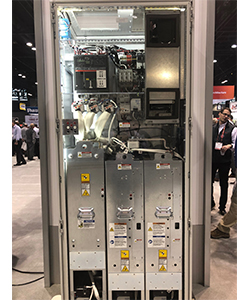 We were also privileged to attend a session on Smart Devices currently on the market and soon to be available. The session focused on showcasing new products that have been designed with several primary elements in mind including connectivity to provide real-time data, space saving benefits and again safety features. And finally it concluded by tying together the themes through analytic software designed by Rockwell partners that allows aggregation and compiling of real-time and historic data. With this it is possible to create trends and models that can help achieve more efficient operations by recognizing components that may be causing issues or are drawing near the end of their life expectancy.
Although there was certainly a broad focus one theme seemed to ripple throughout the show and that was substantial focus on worker safety, and in many cases, this involved methods to mitigate or eliminate the danger of arc-flash. One attendee we spoke with noted that "of all the available solutions our company is focused on implementing means of safe operation for its workers and Rockwell and its partners have given us a lot to think about in terms of the products and methods we use regarding safety."
And another attendee noted that his company sends several employees every year because of the ability to get hands on with many of the products and solutions that are being showcased. "The ability for us to interact with the products and test them, even in a fictional setting, provides confidence and awareness of the limits of the product. And the extensive number of both product experts and sales staff make it easy for us to learn about potential applications beyond our initial considerations as well as lead times and product costs."
The same attendee also noted that "beyond interacting with products we see so many new products being unveiled at the show each year that we need to be here to ensure we don't miss anything that could benefit us, and we want to learn about these products from the technical experts that developed them."
These factors ensured a continued buzz of excitement on the floor for both days of the show right up to the closing of the doors on the 21st. The show was a clear success for Rockwell and its partners and of great value to attendees. In the coming days and weeks that value will extend to those who were unable to attend. Many of the products and solutions unveiled at Automation Fair will be extensively covered by Panel Builder & Systems Integrator over the coming weeks ensuring that you don't miss out on the wide range of new and coming solutions to enhance your operations.