Select Electrical Enterprises Ltd: Solutions with WEG's CFW-11 VFD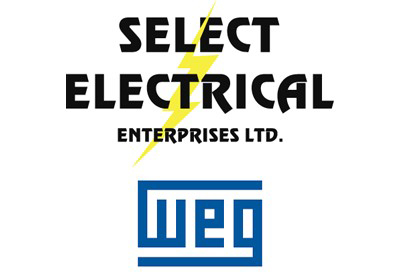 August 17, 2020
By Owen Hurst
I used to think the word automation would be the keyword behind advancing technology, and in many ways it still is. However, over the last several years a word that has always been present among those working with automation has truly moved to the forefront. That word is SOLUTIONS. Automation has taken us in so many directions that unique custom solutions are now essential across a multitude of end-users and are being developed by a growing army of Machine Builders and Integrators.
Recently Drives and Control Solutions had the opportunity to chat with Derek Walkom CET, Electrician, and the CEO of Select Electrical Enterprises LTD. (SEEL).
SEEL is an electrical and controls company that has primarily been involved in providing Variable Frequency Drives as part of custom solutions to the Upstream and Downstream Oil & Gas markets. However, with their substantial field and application experience developing and designing turnkey products, and experienced staff of electrical engineering techs and electricians they are currently expanding their product offerings in the HVAC, Water & Waste Water, Sawmill, Pulp & Paper, Cement and Agricultural industries.
SEEL works closely with WEG VFD's and products and have noted that WEG products are reliable and cost-effective and that the WEG supports its partners and stands behind their product.
Currently SEEL is manufacturing turnkey solutions that are implementing the CFW11 with many different products such as PLC's, pump off controllers, PCP controllers, submersible pump controllers etc. They have developed different models of VFD packages for different applications such as their Gas Compressor Drive, Forced Air Combustion Drive, Automated Pump Drive, SE200 Oilwell Drive, SE200 Oilwell Pump Off Control Drive and an Industrial Drive. SEEL also has specific PLC programs built into the CFW11 for water supply applications and grain handling.
The company has also recently integrated a new HMI from WEG with the CFW11, providing a unique product with numerous applications potentials. The newly developed HMI integrated CFW11 will be applicable to all types of loads (primarily for pump jacks, PCP pumps, compressors, and fans) and will utilize the onboard PLC to develop specific software for each application.
To further exemplify the Solution offerings presented by SEEL and WEG Derek discussed a unique project that was recently completed for a Horizontal Pumping company. The company needed unique and portable pumping units for frac water transfers.
There were several challenges facing the company who had considered a variety of options prior to SEEL proposing their unitized skid solution utilizing the CFW-11 with customized control.
Aside from simply needing the ability to move large quantities of water the company had several requirements, which like in any project were added throughout the build. Firstly, the company was looking to eliminate an external controller like a PLC while also having several requirements based on control parameters such as recycle control for water recycle, low-pressure suction shutdown, high discharge pressure shutdown and vibration sensor shutdown.
The CFW-11 from WEG presented an ideal platform for the solution. Derek noted that "the CFW-11 is a flexible unit that allows for various control protocols, a critical component to an application that required mobility and varied working environments."
SEEL was able to utilize the CFW-11 with the WLP program to meet the all needs of their client in a compact but powerful unitized skid. The units are 480V 600HP and are being used in operation throughout BC, Alberta, and Texas.
Since the application, the customer has seen a reduction in power costs because of the proper control and use of the VFD's. Another interesting point Derek noted, contributing to their customer's return, is that SEEL uses PID control in the VFD based on discharge pressure instead of using recycle valves, which are common and typically used for this type of application.
The project has also opened several avenues for SEEL to further apply the CFW-11 in other similar applications. Currently they are developing a similar water transfer system for another end-user in coal mining.
The continued direction and focus of SEEL in developing unique solutions using the CFW-11 and other WEG products continues to push the boundaries of technology and ensure that complete solution offerings are being developed and delivered locally, nationally, and internationally.
About WEG Canada / V.J. Pamensky
WEG is acknowledged today as one of the largest manufacturers of electric motors, controls and transformers in the world. WEG provides complete industrial automation solutions using the most modern hardware and software tools available in the market.Delivering to many renowned companies, we call special attention to the supply of automation systems for applications in Siderurgy (Laminators), Energy (Substations and Energy Co-generation Systems), Food, Pulp and Paper (Paper Machines), Civil Construction (Intelligent Buildings), Water and Sanitation (Sewage System and Water Pumping) and Ports.An accentuated trend in the past few years, communication networks allow fast exchange of information. These programmable controllers allow information exchanges in various communication protocols, like Profibus, DeviceNet, ModBus, among others.
V.J. Pamensky Canada Inc. was founded in Toronto, Ontario in September 1977 as the exclusive importer of WEG Electric Motors, Controls and Transformers into Canada. The original inventory was small, as were the premises, but these products quickly found a place in the Canadian industrial market. From these beginnings, growth came rapidly, resulting in successive moves to different locations in order to meet the demands for increased inventory and service.Today, V.J. Pamensky Canada Inc. is one of the largest importers of electric motors and controls in Canada with offices and warehouses across the country. V.J. Pamensky Canada Inc. has probably the largest inventory of any Electric Motor and Control Company in Canada. V.J. Pamensky Canada Inc. offers 24 hour emergency service, and will customize and modify products to meet the Customer's most demanding specifications.
Visit WEG Canada