Digi-Key Hosts Strategic Procurement Fireside Chat Dec. 16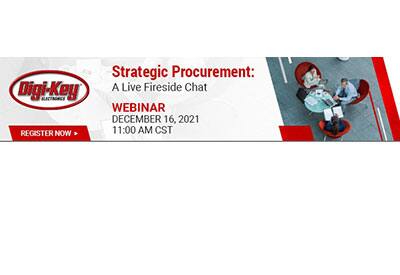 December 8, 2021
Digi-Key Electronics, which offers the world's largest selection of electronic components in stock for immediate shipment, will host a live fireside chat on strategic procurement on Thursday, Dec. 16, at 11 a.m. CST. This free virtual event is open to all professionals who are involved in procurement and purchasing in any business area or industry.
During the fireside chat, three Digi-Key experts with different perspectives on procurement will discuss the following topics:
-The keys to a successful procurement strategy
-Insights on real-world solutions on being strategic and successful in your approach to procurement and purchasing
-Establishing and enhancing distributor relationships
-Anticipating supply chain issues and securing stock
-How digital transformation has changed manual procurement and purchasing processes
Digi-Key's experts who will be participating in the chat include Margaret Cunha, senior director, supply chain solutions; Michael Rankins, regional supply chain solutions director; and Nathan Pray, manager, digital technology office – B2B.
"Fueling the world's innovation starts with purchasing and procurement, and the digital transformation that has occurred in recent years has revolutionized many of the manual processes throughout the supply chain," said Margaret Cunha, senior director, supply chain solutions at Digi-Key. "As a global pioneer in sourcing and distribution, Digi-Key is proud to share our insights and best practices learned by working with more than 2,000 industry-leading suppliers."
To register for the webinar on Thursday, Dec. 16, at 11 a.m. CST, please visit here. An on-demand recording will be provided to attendees following the live event.
For more information about Digi-Key, visit the website.