Nine Partners Demonstrate an Interoperable Digital Twin Based on the Asset Administration Shell
May 1, 2023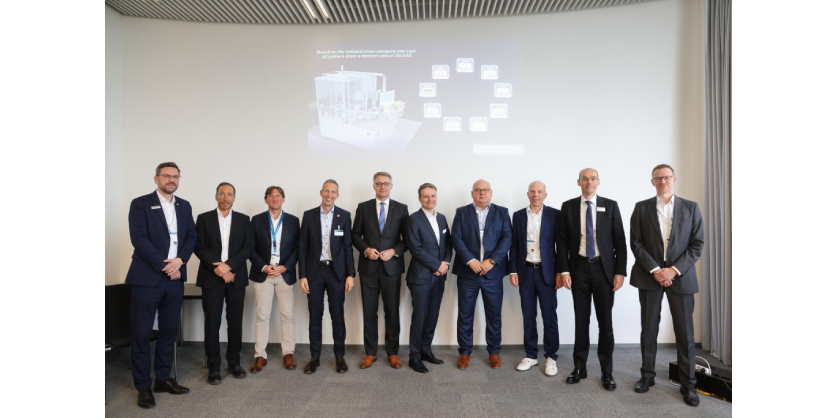 Siemens, Bausch+Ströbel, Bosch Rexroth, CADENAS, Festo, HARTING, SICK, Phoenix Contact, and WAGO use the Asset Administration Shell (AAS) to exchange digital twins in engineering
Defined AAS standard is crucial for the interoperable and efficient exchange of digital twin data
At Hannover Messe, partners demonstrate a specific application with machinery manufacturer Bausch+Ströbel
Collaboration in an open ecosystem from component manufacturer to the customer
At Hannover Messe 2023, Siemens, Bausch+Ströbel, Bosch Rexroth, CADENAS, Festo, HARTING, SICK, Phoenix Contact, and WAGO jointly demonstrate how the Asset Administration Shell standard can be implemented in practice. The companies have exchanged digital twin data according to the AAS standard and evaluated the added value based on a specific application with machinery manufacturer Bausch+Ströbel. In doing so, the nine partners thus made the interoperable digital twin based on an Asset Administration Shell from the component manufacturer to the customer possible for the first time.
Driven by the Industrial Digital Twin Association (IDTA), the AAS standard is industry-neutral and independent of manufacturers, enabling all of the information and functionality of a given asset to be documented, described and, most importantly, shared. In the area of Industrie 4.0, it facilitates the digital representation, for example, of a product or a machine, based on a uniform "data language" and standard data access. This is crucial for the efficient exchange of digital twin data between companies where the use of proprietary formats within heterogeneous systems and IT landscapes is prevalent. For customers, this means speeding up and simplifying the engineering process as asset data becomes more open, more readily exchanged and can serve as the link between the physical and digital worlds.
Specific application at Hannover Messe
The partners are joining together at Hannover Messe to demonstrate how this can work, using a labeling machine from Bausch+Ströbel as an example. By providing component data in accordance with the Asset Administration Shell standard, the component manufacturers and software developers involved enabled Bausch+Ströbel to create a digital twin of the machine faster and more efficiently, saving a great deal of engineering time and thus saving money. "There is no longer any need to modify, search for, and complete the data, so we can begin our value-creating activities directly," says Erich Bauer, Vice President of Research & Development at Bausch+Ströbel. "Thanks to the asset administration shell standard, the data is also of higher quality because, for example, we no longer have to reformat them."
Siemens has supported this demonstration using solutions from the Siemens Xcelerator portfolio of software. Component manufacturers were able to provide their digital twin data as an AAS directly via Teamcenter® software for product lifecycle management (PLM) using a prototype development. Through prototypical AAS import add-ins within the engineering tools NX Mechatronics Concept Designer™, TIA Portal, and SIMIT, the generated component AAS could then quickly and easily be used for the engineering. Each participating component manufacturers provided a digital twin of their components, such as sensors, plug connectors, and cylinders, in the form of an Asset Administration Shell. Based on this specific application with Bausch+Ströbel, the partners then jointly evaluated the added value of the AAS.
By collaborating in an open ecosystem, the nine partners are driving Industrie 4.0 and the digital transformation in a crucial way. Other companies can join the working group.
Related Story
This cross-Canada tour showcases the latest in manufacturing and process technologies. Automate the Future 2023 will let you explore all aspects of factory automation, motion, and process automation– from the hardware and software that drive it, the newest technologies, and fully-integrated solutions – that can transform your operations to win in this highly competitive marketplace.