FANUC's Annual Private Show provides a Unique Experience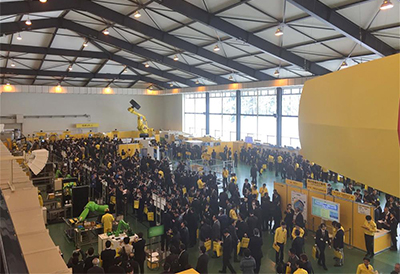 April 30, 2019
FANUC CORPORATION opened its doors last week to nearly 8700 guests for their annual Private Show.
Located at the base of Mt. Fuji in Yamanashi Prefecture, Japan, FANUC's Private Show provides a unique experience for customers to tour the massive complex and learn about FANUC's new products. Many of FANUC's global subsidiary groups attended along with their customers. FANUC America had its largest delegation to date with 151 attendees.
FANUC's ongoing focus of continuous product development was evident with the introduction of more than 24 new software and mechanical products across the Factory Automation (FA), Robot and ROBOMACHINE lines.
Subsidiary attendees were also treated to multiple factory tours.
John Burg, Founder of Wisconsin-based Acieta LLC stated "the 2019 FANUC Private Show provided the opportunity to see a phenomenal application of manufacturing technology. FANUC uses many traditional processes such as machining, fabricating and assembly. To the best of my knowledge, the application of automation to these processes is unmatched anywhere in the world. If you are a student of traditional manufacturing, you should add a visit to FANUC CORPORATION as a must do."