Siemens' new Sirius soft starters enable safe, efficient motor switching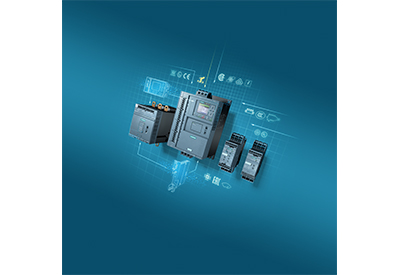 November 11, 2019
Siemens Smart Infrastructure expanded its soft starters portfolio for motors, with the launch of Sirius 3RW55 Failsafe and Sirius 3RW50. Soft starters ensure electrical motors used in industry and infrastructure are protected during startup and ramp-down. The Sirius 3RW55 Failsafe soft starters are the first to feature the integrated Safe Torque Off (STO) function. As specified in safety standards, the protection function for electrical drive systems ensures that torque-generating energy stops acting when motors are turned off, preventing an unwanted restart. Control panel manufacturers no longer require using separate individual components to have this function, which reduces the time and effort for wiring and maintenance works and saves space in the control cabinet. In addition, the switching time of the integrated solution is significantly shorter than for conventional, electromechanical components.
"An abrupt start or stop of motors can often cause serious problems due to mechanical impact on the machine or voltage dips in the power supply system. As part of a smart electrical infrastructure in buildings and industrial plants, the new soft starters from the Sirius portfolio offer a softer, and even safer alternative, preventing malfunctions and downtimes," said Erich Fröhlich, Product Manager at Siemens Smart Infrastructure, Business Unit Control Products.
The Sirius 3RW55 Failsafe soft starters are suited for starting and stopping operations of high-power motors with a rated output of 5.5 to 560 kilowatt (kW) at 400 volts (V). All switching operations can be controlled simply, in a user-friendly manner, via the integrated human-machine interface (HMI). Optional communication modules allow for function expansions as needed, for example offering a complete diagnosis, statistic data and measuring values for an automation system.
The Sirius 3RW50 devices have a compact, space-saving design with minimal power loss. They cover a power range from 75 kW to 315 kW at 400 volts (V) and are designed for standard applications. Additional functions can be added via optional communication modules. The integrated soft torque function helps prevent current surges at startup and reduce mechanical loads when starting and stopping motors. This makes soft starters ideal for turning on pumps because they prevent pressure spikes in the pipe system and potential damage resulting from water hammer. They are ATEX- and IECEx-certified and can also be used for applications in potentially explosive areas, for example, at airports or gas stations, when pumping kerosene or gasoline.
Motor data can be visualized via an HMI interface on the control panel door or an analog output. Modern hybrid switching technology ensures efficiency, energy-saving and a long product lifetime.
All soft starters from the Siemens Sirius 3RW5 portfolio have functions for easy and error-free parameterization, current limitation with motor overload protection and pump start and stop. They can be integrated in the Totally Integrated Automation (TIA) Portal and fully configured via the open Industrial Ethernet network Profinet, for example. Thanks to a number of certificates and approvals, for example in compliance with standards from the International Electrotechnical Commission (IEC), the Underwriters Laboratories (UL) and the Canadian Standards Association (CSA), the devices can be used worldwide.