Danfoss acquires US-based industrial refrigeration technology leader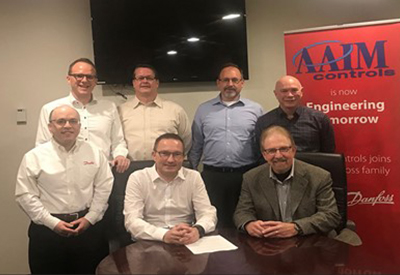 December 7, 2018
Danfoss recently announced the acquisition of AAIM Controls Inc, located in Waynesboro, Pennsylvania, US. AAIM Controls is a specialized supplier of custom-designed regulation and control automation solutions, from motor starters to complete PLC systems. With the acquisition, Danfoss moves to a strong and unique position as a systems provider within industrial refrigeration.
Jürgen Fischer, president of Danfoss Cooling, said, "We consistently look to strengthen our core businesses by partnering with other successful companies and acquiring technology that complements the solutions we offer our customers. By adding electronic regulation and control automation to our already-extensive portfolio of components for industrial refrigeration applications, we strengthen our global position by becoming a systems provider in the industrial refrigeration market."
With global megatrends like digitalization and combatting climate change driving the industrial refrigeration market forward, the demand is increasing for bundled solutions of products, as well as intelligent control and automation, that increase energy efficiency, ensure food safety, and help in the transition to alternative, climate-friendly refrigerants.
"In the industrial refrigeration market, controllers are often seen as the central part of a system offering. With the addition of AAIM's strong knowledge base and their highly specialized solutions, we gain a unique competitive advantage where we can better address these customer requirements," said Kristian Strand, president – refrigeration and A/C controls, Danfoss Cooling.
Arthur Marshall, one of the founders of AAIM Controls, said, "Becoming part of the Danfoss family will give us great options for expanding into new areas, and I'm confident that the partnership with Danfoss will open up new business opportunities. Not only do we share the same ideas of how to develop the business, but we also have the same values when it comes to our people and how to drive growth."
AAIM Controls Inc. was founded in 2003 by Art Marshall and Alan Izer, and employs 24 people within administration, engineering, and manufacturing in their 16,000-square-foot facility in Waynesboro, Pennsylvania, USA. Read more at http://www.aaimcontrols.com/