IMTS TAKES #2 SPOT IN LIST OF TOP TRADE SHOWS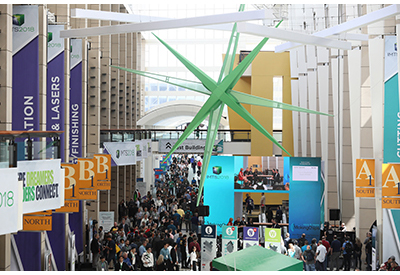 March 28, 2019
The International Manufacturing Technology Show captured the No. 2 spot on the 2018 Trade Show News Network's (TSNN) Top Trade Shows list. For more than 20 years, the list has ranked the top 250 shows by net square footage.
"It's quite a feat to land on one of the top spots of the 2018 TSNN Top Trade Shows list," says Rachel Wimberly, President of Tarsus Media, Trade Show News Network. "IMTS clearly is a show that has been robust and growing for many years." IMTS 2018 ran from Sept. 10 – 15 at Chicago's McCormick Place. With 1,424,232 net sq. ft. of show floor and 129,415 registrants, IMTS 2018 was the largest show ever.
"The record size and attendance at IMTS 2018 reflect the renewal of manufacturing," said Peter R. Eelman, Vice President and CXO at AMT – The Association For Manufacturing Technology. He added, "IMTS 2018 highlighted the explosion of digital technology and highly advanced manufacturing techniques. New ideas and methods dominated the show floor. Combined with a strong economy and industry growth this allowed IMTS to break all of its own previous records."
In addition to record net square footage and registrants, IMTS 2018 featured 2,123 booths and 2,563 exhibiting companies. Notable growth areas at IMTS 2018 included an expanded Additive Manufacturing Pavilion that featured 51 exhibitors and covered 31,550 sq. ft., the strong partnership with HANNOVER MESSE USA and its four co-located shows with 510 exhibitors, and an expanded Smartforce Student Summit that drew 7,000 more visitors than in 2016.
The IMTS 2020 floor plan and space assignment will be released in May 2019.
Link to the online release: https://www.imts.com/media/imts_releases/20190328.html