WEG Electric Motor Controls from Automation Direct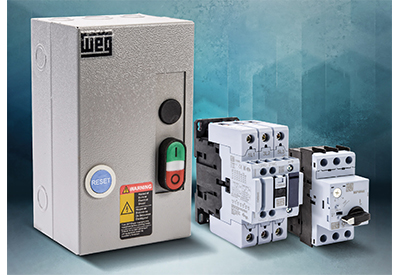 January 7, 2021
New additions to AutomationDirect's offering of WEG Electric motor controls expand its application space in solutions for switching and controlling motors.
The WEG Electric CWB series of IEC contactors meets the requirements of a wide range of industrial applications. The magnetic contactors are available with AC or DC coils, in ratings up to 60hp at 575V. RW27/67 series thermal overload relays include (1) N.O. and (1) N.C. isolated auxiliary contact, and mount directly to the compatible contactor for compact and reliable installation. RW-E series electronic overload relays protect motors in a wide range of applications by offering selectable trip classes. WEG CWB series contactor prices start at $25.75, with a full line of accessories available.
ESW/PESW series enclosed manual motor starters offer convenient pre-wired, ready-to-install units for operating the electric service to a motor. ESW series units with NEMA 1 rated enclosures offer a general industrial solution; PESW series units with NEMA 4 rated enclosures are perfect for harsh environments. Enclosed manual motor starters are priced from $88.00.
MPW series manual motor protectors cover the function of motor starter, disconnect, controller, overload protection and branch circuit protection in a very compact device. Models are available in ratings up to 32A. MPW series manual motor protectors start at $48.00.
To learn more, go to www.automationdirect.com/motor-controls.