Terminal Blocks with Innovative SNAP IN Technology
Weidmüeller's new SNAP IN connection technology will take your wiring processes to a whole new level.
June 20, 2023
SNAP INto the future with Klippon® Connect
Time is money. For this reason, installation work in control cabinet construction must be carried out ever faster, preferably automated. At the same time, the connections should be permanently reliable, safe, and easy to maintain. The new Klippon® Connect terminal blocks with Weidmüeller's revolutionary SNAP IN technology meet all these requirements – and are extremely easy to use: stripped fine-stranded conductors just need to be inserted into the connection point, and the connection point snaps shut with a clearly audible click. The conductor is permanently and reliably contacted. To release the connection, press the green pusher. It couldn't be faster or easier.
Your benefits at a glance
Quick! The new SNAP IN connection technology will take your wiring processes to a whole new level.
Simple! Direct and tool-free wiring without ferrules. Simply insert the stripped wire into the pre-loaded connection point.
Safe! Pre-loaded SNAP IN spring connection guarantees a safe and gas-tight connection of the conductor.
Efficiency in every step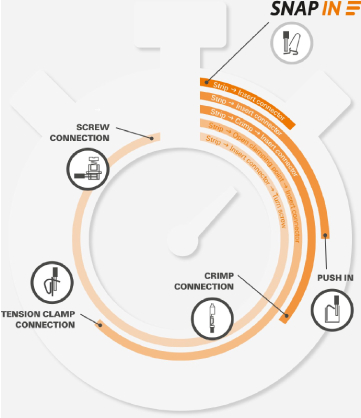 Step 1:

The terminal blocks are delivered with preloaded spring. The status of the preloaded clamping point is signalled by the position of the pusher.

Step 2 :

The stripped wire can be inserted easily and safely into the clamping point without further preparation.

Step 3:

The conductor is contacted in the clamping point with a clear "click". The triggered clamping point is additionally signalled visually by an increased pusher. Step 4 By pressing the pusher, the conductor can be released quickly and easily at any time and the clamping point preloaded again
Quick, Simple and Safe – just SNAP IN
Connect faster than ever before
The innovative SNAP IN connection enables secure wiring in record time. With SNAP IN even flexible conductors without ferrules can be connected intuitively and completely tool-free – even in fully automated wiring processes. The new SNAP IN connection technology will take your wiring processes to a whole new level.
Spring connection with SNAP IN technology
The innovative SNAP IN technology revolutionizes control cabinet construction. The direct connection of flexible conductors without ferrules reduces conductor preparation and wiring.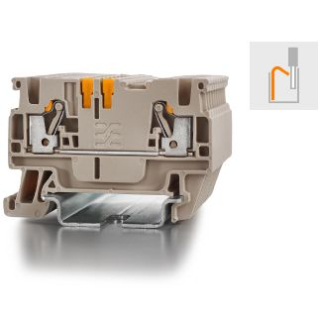 Spring connection with PUSH IN technology
The innovative PUSH IN technology reduces the amount of time you spend on wiring to a minimum. Direct insertion guarantees high conductor pull-out forces and simple handling for all conductor types.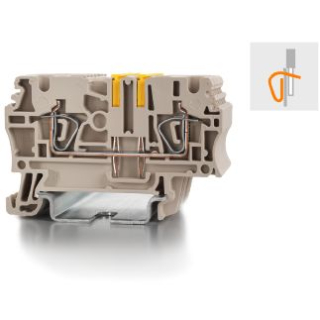 Spring connection with tension clamp technology
Tension clamp technology is a universal contact system for all common conductor connection types. Its fantastic level of flexibility makes the tension clamp a profitable alternative connection.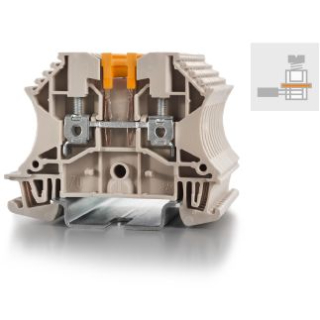 Screw connection with clamping yoke technology
The patented Weidmüller clamping yoke system sets standards. The fact that it is simple to handle makes clamping yoke technology the universal screwed connection solution for all conductor types.
Get your free sample
You would like to try the easy handling of terminal blocks with SNAP IN technology? That's no problem! Order a sample now and you will receive it free of charge within 72 hours.
Due to digitalisation and automation, the construction of electrical cabinets is rapidly developing. By purchasing a Weidmueller RailAssembler, we have already taken the first step towards automated control cabinet construction. Terminal blocks with the innovative SNAP IN technology now pave the way for us to automated wiring in the near future.

Andreas Bek, Managing Director B.A.H. Industrial Solution GmbH
More Information
Terminal blocks with innovative SNAP IN Technology
Related Story
The future of connections is Weidmüller's new, patented SNAP IN connection technology that is revolutionizing the wiring process of control cabinets. SNAP IN connection technology features simple and intuitive handling. The pre-loaded clamping point allows direct and tool-free wiring of solid and flexible conductors – even conductors without the ferrules. Simply insert the conductor into the connection point. You will hear an audible "click" and you will see a visible increase in the pusher, and you will know that a reliable connection is ready.