Safety Light Curtains PSENopt II – Second Generation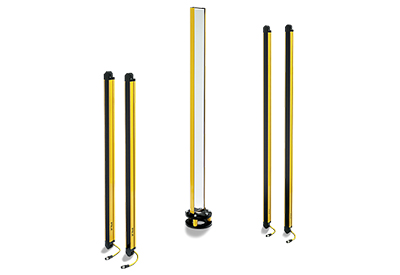 March 2, 2021
The second generation of safety light curtains, PSENopt II, provide safe access to the production process and provide finger, hand and body protection, depending on the requirement. The first Type 3 safety light curtains are specifically designed for applications up to PL d of EN/IEC 61496-1. Type 4 light curtains are also available for applications up to PL e of EN/IEC 61496-1/-2.
As the units are so robust, PSENopt II sensors provide protection against shock, collision and vibration and so are suitable for use in rugged industrial environments. The operator can evaluate the essential causes and system defects responsible for the machine stop by means of the LEDs. Downtimes are reduced as a result.
The safety light curtains are available in lengths from 150 mm to 1800 mm. In combination with the configurable control system PNOZmulti 2 you have a safe, complete, one-stop solution. Compatible accessories range from installation assistance through to mirror columns.
New: Accessory for the light curtain PSENopt II to prevent restart
With our new accessory PSENopt II lockout for the PSENopt II range of light curtains you can prevent the machine restarting. This is necessary, for example, when carrying out maintenance work within the danger zone. PSENopt II lockout consists of an assembly unit that is attached to the side of the light curtain like a swivel arm. If the danger zone is accessed, the swivel arm can be folded out in front of the light curtain's field of vision and fitted with a lock. As a result the light curtain no longer has a free field of vision, so start up is prevented.
By comparison: previously a restart could only be prevented by using additional safety sensors in the danger zone or via a visual inspection, in other words by looking into the danger zone. With PSENopt II lockout you have a safe solution without the extra costs of additional safety sensors.
Protect your light curtains PSENopt II from damage – with the PSENopt II post protectors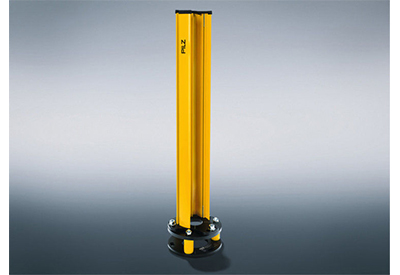 With the post protectors PSENopt II protective column you can provide your light curtain with optimum protection against damage, from collisions for example.
The post protectors can also be used for a free-standing installation of the light curtains. For simple assembly on uneven surfaces, the post protectors can be used in conjunction with the PSENopt II adjustable base unit.
Safety light curtains for finger, hand and body protection – the benefits
– Highly robust for protection against shock, collision and vibration
– User-friendly diagnostics via LEDs to reduce downtimes
– Fast, simple assembly, installation and commissioning
– Coding for greater flexibility when installing the light curtain sensors
– Securing several sides of a danger zone with PSENopt II mirror columns
– Adjustable base unit offers additional protection against strong mechanical impact and enables the mirror column to be adjusted in uneven conditions
– One-stop shop: complete economical solution with configurable control systems PNOZmulti 2, plus a wide range of accessories
Safety light curtain features
– Compliant and approved in accordance with EN/IEC 61508 and EN/IEC 61496-1 (Type 3) or EN/IEC 61496-1/-2 (Type 4)
– Can be used for applications up to PL d / PL e of EN ISO 13849-1 and SIL CL 2/ SIL CL 3 of EN/IEC 62061
– Safety for finger, hand and body protection
– Lengths of 150 mm to 1800 mm
– Robustness of 50 g
– Absence of dead zones
– Integrated coding
– Complete solution with PDP67 (plug and pin compatible), PNOZmulti, PNOZx.2 8p, PNOZs3
Light curtains PSENopt II application areas
Protect your staff and your capital goods with the safety light curtains PSENopt II! The light curtains protect the danger zones with an invisible protected field of infrared beams. If the infrared light beam is interrupted, a safe shutdown command is issued immediately.
PSENopt II safety light curtains are suitable in industry particularly for manual workstations, access guarding, inserting/removing materials or material handling next to robots.
PSENopt II mirror column for securing danger zones from several sides
Combine your safety light curtains with our new PSENopt II mirror columns to safeguard a danger zone from several sides. Monitor up to three access sides with just one pair of light curtains and two mirror columns! You save wiring work, space and money. The mirror columns consist of a post protector and an integrated mirror. They can be used with all our light curtain sensors PSENopt and PSENopt II.
The PSENopt II adjustable base unit is an optional accessory offering additional protection against strong mechanical impact. It is also ideal for installing the mirror columns on uneven surfaces.
Integrated coding on all PSENopt II safety light curtains
Starting now, the physical arrangement of your safety light curtains knows no limits. Thanks to the coding, the light curtain sensors no longer interfere with one another, even with close physical proximity. This is particularly important if the transmitter of the first pair of light curtains emits beams in the direction of the receiver of the second pair of light curtains. In this case, simply configure the pairs of light curtains with different beam codes! The following is available: "Code A", "Code B" and "not coded". The coding is integrated into all PSENopt II light curtains.