SMC's Air-Management Systems Offer Sustainability, Condition-Based Maintenance, and Digitization
February 22, 2023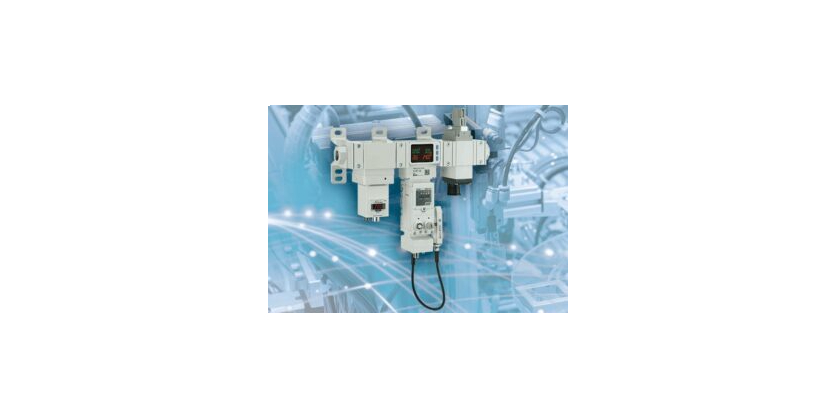 Advanced Motion & Controls Ltd. carries solutions by SMC Automation, including air-management systems in five configurations. These devices enable visualization of production-equipment status, information that can easily be monitored from another location or even outside the office: flow rates, pressure, and temperature, as well as different kinds of sensor data, can be communicated to the host system through the Ethernet or OPC UA.
Manual or electronic pressure settings
These air-management systems are IO-Link-compatible, each with an IO-Link port on the back of the air-management hub. These SMC solutions are also compatible with the Industrial Internet of Things through monitoring and remote control of equipment conditions.
Other features: automated short- and long-term standby functionality, to conserve air; an automated data stream, for leak detection and air-performance analysis; manual or electronic pressure settings; standard M12 connections; IP65 ingress protection; soft-start functionality; and four size options to suit different machines, covering zero to 4,000 litres per minute and ports from ¼ to one inch.
In addition, users can add additional sensors through IO-Link and digital inputs, while reducing wiring with a secure 100-metre proprietary wireless transmission range. ISO-quality air is attainable with SMC's AC-D modular air preparation, and the devices are mechanically compatible with SMC safety vent valves. These systems are compatible with wireless systems, with no communication cables required – resulting in less wiring work, space, and cost, with minimal disconnection risk. Up to ten remotes can be connected, specifically AMS20/30/40/60 or small wireless devices.
The following configurations of SMC air-management systems are available from Advanced Motion & Controls:
Basic assembly. Available in two configurations that vary by the standby regulator used, the A type and B type.
EXA1 air-management hub. The heart of every system, based on the PF3A flow sensor.
ITV-X399 standby electro-pneumatic regulator. Adds functionality to the standard ITV for use in the air-management system, allowing the user to control the pressure to the device electronically.
AR20S~50S standby regulator. A simple, mechanical method of introducing reduced standby pressure.
Residual pressure-relief three-port solenoid valve. Puts machines in isolation mode for longer-term idle states.
More Information
Related Story
Dorner industrial material-handling solutions are available in Canada through Advanced Motion & Controls Ltd., including belt, modular-belt, and flexible chain conveyors. Recently, the Barrie, Ont. supplier received the prestigious Dorner Million Dollar Club Award, for its services as a strategic distributor in providing these innovative conveying solutions to businesses across the country.
Canadian customers get higher efficiency and productivity with Dorner's automation solutions, through the manufacturer's tight partnership with Advanced Motion & Controls.