SEW-EURODRIVE: Complete Drive Solutions up to 375 kW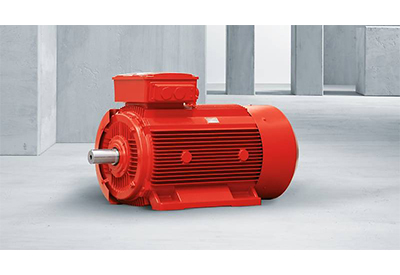 March 16, 2021
With the new size 355, SEW-EURODRIVE's three-phase motors of the DRN series meet the efficiency requirements IE3 up to 375 kW. This means that you can operate your system worldwide even at high power levels, regardless of whether you have to comply with the European Ecodesign Directive or another country-specific minimum efficiency requirement outside Europe.
Large drive powers are often required for solutions with industrial gear units. But even in this power spectrum, the correspondingly increased IE3 efficiency requirements often apply worldwide. For this reason, we have now extended the motors of the DRN series by size 355 especially for these applications and developed them for you. The DRN355 are part of our DRN.. motor modular system and meet all efficiency requirements and can therefore be used worldwide. The motors meet many local approvals and certifications.
The DRN355 are classic asynchronous motors in 4-pole design for mains operation at 50Hz or 60Hz or for use together with a frequency converter. In the IM B3 design, the feet of the DRN355 are an integral part of the housing, providing rigid mounting to the customer application. In addition, a standard air baffle is installed for better ventilation of the A-bearing.
Your advantages:
– Industrial gear units
– external oil supply and oil cooling systems
– clutches on input and output side
– brakes
– IE3 motors with power ratings from 250 – 375 kW
– drive packages on steel construction (swing arm or foundation frame)