Weidmüller RockStar: New HDC inserts with the innovative Quick Termination connection system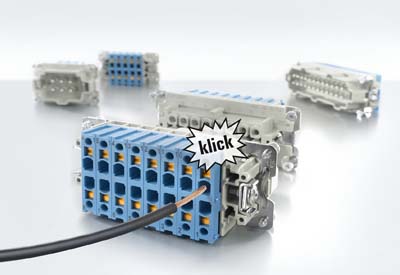 December 17, 2018
With Quick Termination (QT), Weidmüller is revolutionising connection systems and bringing them to a whole new level. Stranded wires of 0.5 to 2.5 mm2 (AWG 20 to 16) without crimped-on wire-end ferrules can be easily inserted into the open connection point. "Click" – that's all it takes to create a secure connection. No tools are required. The connection can withstand even harsh environmental conditions with heavy shaking and vibrations. The connection point can be opened by activating the pusher, and the connected wire can be removed. The innovative Quick Termination connection system is being used for the first time in the HDC-HE inserts in the RockStar® series. Fixed-pole inserts with 6,10,16 and 24 poles are available (size 3, 4, 6 and 8), with a rated voltage of 500 V/16 A. The new HDC-QT inserts allow for quicker, easier, more reliable and more flexible wiring. Maintenance work is significantly quicker.
The heavy-duty connectors in the RockStar® series are permanent fixtures within machinery and plant engineering, as well as in the railway and wind power industries. They also support the trend towards modularisation. Type and application-dependent inserts are available with various connection systems for screw, tension clamp, PUSH IN, crimp or axial screw connection. These are now also joined by inserts fitted with the new, future-proof Quick Termination (QT) connection system. This connection system is the result of Weidmüller's consistent further development of the well-known PUSH IN connection system. With the Quick Termination connection, users can easily insert the stripped, stranded wire into the connection point for the first time, with no need to crimp on a wire-end ferrule. The open QT connection system is designed to close automatically as soon as the stripped wire has reached the correct position and the spring has triggered. The operating principle is comparable to that of a mousetrap. The contact closes with a noticeable "click", and holds the wire in place protected against vibrations. With the QT system, there is no need to crimp on the wire-end ferrule, which significantly reduces material and processing costs while also speeding up the connection process. The Quick Termination connection is really simple to establish, and guarantees a reliable and vibration-proof connection. Stranded wires of 0.5 to 2.5 mm2 (AWG 20 to 16) can be connected quickly and reliably without crimped-on wire-end ferrules. And of course, it is still possible to use stranded wires with wire-end ferrules and plastic collars with cross-sections ranging from 0.5 mm2 to 2.5 mm2 with the QT connection system. The connected wires are released by activating the pusher using a standard screwdriver. This innovative new connection system is currently only being offered by Weidmüller.
Every contact point for the HDC-QT inserts is also provided with a "measuring point", meaning that testing procedures can be carried out with the standard 2.0-mm test plug. This testing option is familiar from the use of terminal blocks.
The fixed-pole HDC-HE-QT inserts are available with 6, 10, 16 and 24 poles (size 3, 4, 6 and 8). The rated voltage is 500 V in accordance with DIN EN 61984, and 600 V AC/DC in accordance with UL/CSA. The rated current (DIN EN 61984) is 16 amps. The Quick Termination connection system provides a high level of reliability even under the harshest environmental conditions with heavy shaking and vibrations.
The plastic housing of the HDC-HE-QT inserts consists of the PC glass-fibre reinforced insulating material PA 66/6. The plastic is UL-listed and approved for use on railway constructions. The flammability rating in accordance with UL 94 is V-0. The inserts can be easily inserted at temperatures ranging from -40 °C to 125 °C. They are plug-compatible with existing HDC-HE inserts with crimp, screw, tension clamp and PUSH IN connection systems.
Additional information: www.weidmueller.com