Schneider Electric: Model 6 intelligent Motor Control Centres (iMCCs)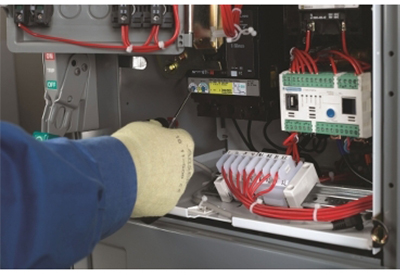 December 16, 2019
Integrated intelligent components and device-level networks provides superior performance to enhance any process or production method.
Factory wiring, popular network protocols including industrial Ethernet, and extensive testing and documentation make your iMCC installation simple. Whether your application calls for hard-wired I/O or a network solution, Schneider Electric Model 6 iMCC's deliver the intelligent and integrated package while reducing acquisition, installation, and commissioning costs.
Features
The Model 6 iMCC integrates intelligent devices, device level networks and the industry-finest structure and bus systems for maximum flexibility to meet the widest variety of applications and industry needs. It offers a total solution package with "intelligent" components and cabling solutions. Designed to support all the leading network protocols, Ethernet (Modbus TCP and Ethernet IP), Modbus®, DeviceNet, PROFIBUS and CANopen, in a variety of network topologies.
The right information at the right time: Schneider Electric has made it easier to gain access to the information you need in real time, around the clock, from anywhere. With our Ethernet solutions, you can monitor AC drive parameters, view full voltage starter status, spot abnormal conditions immediately, and quickly diagnose equipment failures from any networked computer using any standard Web browser.
The Model 6 iMCC reduces installation time and costs by replacing large bundles of field-control wiring with either pre-wired I/O or networking technology. Total installed cost-savings generally average 10% to 30%.
– Advanced control & monitoring
– Enhanced energy management
– Greater level of asset protection
– Expanded personnel protection
– Lower commissioning costs
– Streamlined troubleshooting and maximum uptime
– Remote monitoring
– Flexibility to choose various distributed I/O configurations
– Process diagnostics that simplify maintenance by allowing users to detect and correct problems before they become critical, enhancing motor protection efforts, preventing damage and minimizing downtime
Applications
The iMCC solution is particularly well-suited to applications where process consistency is critical, such as petrochemical, food and beverage, automotive, pharmaceutical, semiconductor/electronic manufacturing, water/wastewater, and metals.