Orbex Group Offers New Custom Brushless DC Motors
April 10, 2023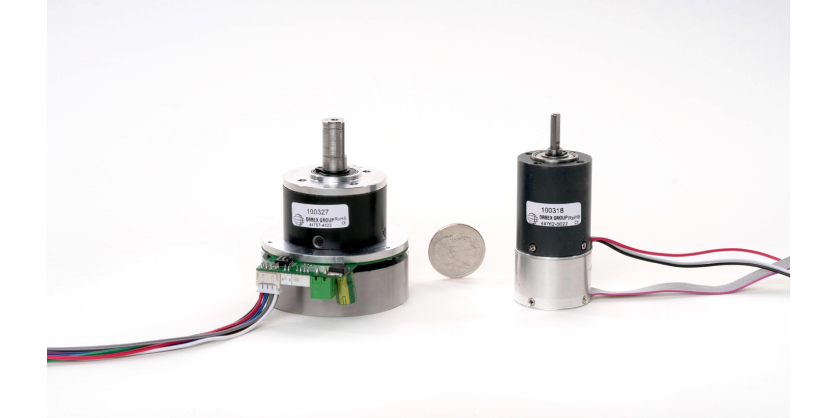 Orbex Group, a U.S.-based supplier of slip rings and electric motors, has introduced two new custom products to its offering of precision motion solutions. These custom flat brushless DC (BLDC) motors provide smooth motion, high precision and excellent power density, as well as an integral gear reducer in a compact package.
Both EC Family motors are part of assemblies that include a planetary gearbox, delivering high power density, low noise and efficient operation. Each motor also features either an absolute or incremental encoder for accurate positioning.
The first assembly features a 31-millimeter BLDC motor with two-stage planetary reducer and encoder. It can achieve a rated output speed of 175 rotations per minute, and its magnetic encoder features a resolution of 4,096 counts per revolution. This motor is ideal for powering small devices, such as the pump on a battery-driven medical device.
The second assembly features a customized EC 6025 motor with integral encoder and 10:1 planetary reducer, delivering a rated output speed of 240 rotations per minute and torque up to 5 Newton-meters. This motor's optical encoder features a resolution of 2,080 counts per revolution. It was recently implemented as a steering actuator for an autonomous mobile robot (AMR).
Both motors from Orbex Group include many options for integral electronics and are available with short lead times to meet fast project schedules.
More Information
Related Product
These compact motors, available with or without encoders, are useful for applications that require hightorque density and have space limitations — including robotics, packaging, security, medical and more.
These high-performance motors feature a range of sizes, voltages and speeds to give you the best performance in space-limited installations. Motor diameters range from 43 mm to 90 mm and lengths range from 9 to 38 millimeters to give many options for efficient use in compact spaces. Available power levels span from 12 to 220 watts with winding options for different supply voltages.