Safety Laser Scanner PSENscan From Pilz With up to Three Separate Safety Zones and up to 70 Switchable Configurations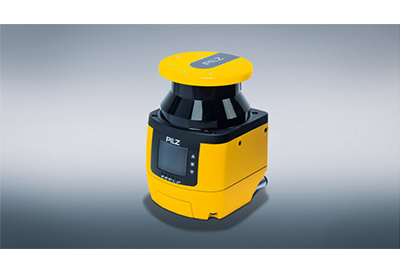 July 5, 2021
Additional digital inputs and outputs are now available for the safety laser scanner PSENscan: Up to 70 switchable configurations can now be implemented and up to three separate safety zones can be monitored simultaneously thanks to the new 17-pin and master encoder types. So stationary areas can be monitored more productively – also using the new partial dynamic muting for example. And new functions for the intralogistics sector – such as encoder evaluation, standby mode and more precise navigation – also provide for more efficient monitoring of mobile applications.
Thanks to fast, direct evaluation of the new encoder inputs in the safety laser scanner, labour and costs for what would otherwise be additional wiring are reduced. PSENscan is also extremely flexible and versatile due to its high resolution of 30, 40, 50, 70 or 150 mm, plus multiple evaluation of scans. With the new, exchangeable memory module, configurations can easily be transferred to other laser scanners. PSENscan also has a scanner head, which if damaged can also be exchanged individually, reducing installation and downtimes on plants to a minimum.
Dynamic safeguarding
Dynamic muting on the safety laser scanner PSENscan has been expanded to include partial muting. This means, for example, that under certain pre-defined conditions the transported product is allowed to move within the protected area without the machine coming to a stop.
The new beam coding also provides benefits: should a plant operate two safety laser scanners that are not connected in series, mutual interference is excluded. So two safety laser scanners used independently of each other can be operated flexibly in parallel. Partial muting and beam coding ensure higher plant and machine availability.
Intralogistics: more flexible and precise mobility
PSENscan can switch to standby mode if necessary. This is an advantage, particularly on automated guided vehicles (AGV), as machines can be started up more quickly. Costs are saved as standby mode means reduced power consumption. A time-saving restart is also possible in conjunction with the new, automated auto reset function. PSENscan also logs error lists: these are now displayed locally on the device, enabling faster diagnostics and a rapid restart.
Guarantee quality and efficiency
What's more, it's also now possible to read intensity and distance values for precise navigation to stations via PSENscan. If distance information is insufficient, reflectors can now be used for navigation. This enables precise positioning during navigation, when docking an AGV to a machine for the transfer of materials for example. ROS modules are provided, making implementation easy to manage.
To ensure that maximum safety can be guaranteed even when the AGV has variable speeds, the protected fields on the PSENscan can now be adapted dynamically to the different speeds of the AGV. So obstacles can be avoided with greater precision. That increases the safety of human and machine and minimises the probability of production downtimes. Precise navigation and the ability to adapt to different speeds help AGV users to increase the productivity and therefore the efficiency of their plant.
The new versions of the PSENscan enable more flexible safeguarding of stationary and mobile danger zones and offer protection against encroachment behind the protected area as well as access guarding, not just for production logistics and intralogistics but also for the automotive, packaging and metal processing sectors.