ReeR Safety Light Curtains with Integrated Muting Functions from AutomationDirect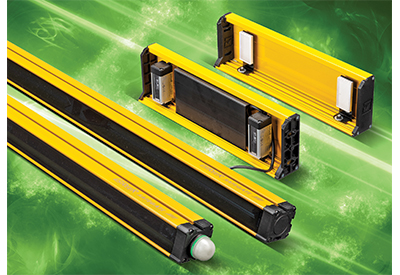 October 20, 2020
The new Safegate Type 4 access control barrier safety light curtains provide protection in a wide range of industrial applications requiring integration of the muting functions. The muting function temporarily disables the safety function when a workpiece or conveying palette passes through the detection area of safety light curtains or safety sensors. Safegate safety curtains feature integrated muting functions with two access control (body protection) hardware or software configuration options.
Sender/receiver or active/passive pair versions are available with 24 VDC input, 300 or 400mm resolution and 0-8m or 0-12m operating distances. Software configurable (SMPO) models permit the upload/download of settings, specification of muting parameters, light curtain status and monitoring, and the ability to check and validate the programmable configurations.
ReeR light curtains with muting function from AutomationDirect are IP65/IP67 rated and priced from $748.00. ReeR pre-configured and pre-wired muting arms and muting brackets, and mirrors and protective columns are available.
Learn more by visiting: www.automationdirect.com/light-curtains-reer.