Murrelektronik Switches: Field Connectivity Simplified
November 14, 2023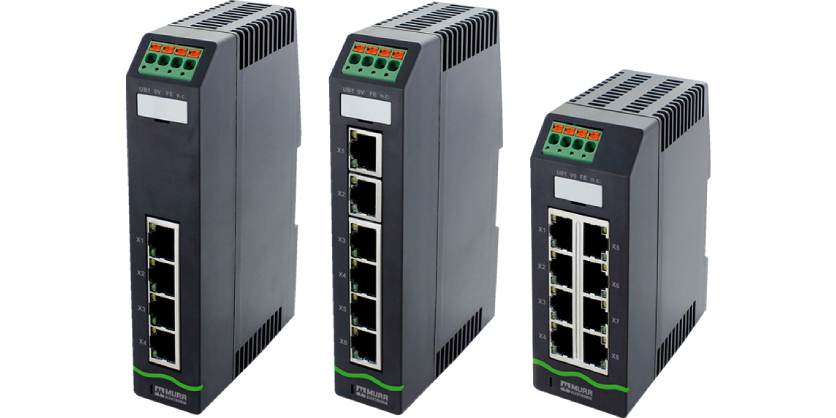 Machines and systems become more and more closely networked. Ethernet-based automation solutions are gaining in importance as switches allow the implementation of flexible topologies. Murrelektronik offers suitable components for networking the Ethernet modules economically and goal-oriented.
Unmanaged switches are used to reliably cover basic functions at an advantageous price-performance ratio, while variants such as the PROFINET managed switches offer the maximum range of functions. Pre-wired cordsets avoid wiring errors and are perfect for a quick an efficient installation.
The right switch for each application
Unmanaged, Managed and PROFINET Managed Switches
IP67 switches with M12 connection – for field applications
IP20 switches with RJ45 connections – for control cabinet applications
Transfer rate: 10/100/1000 Mbit/s full duplex
4 / 5 / 6 / 8 / 16 Ports
Supply power to an IP67 switch via a fieldbus module's output port
PROFINET Managed Switches
PROFINET Managed Switches are high-performance managed switches that are equipped with PROFINET functionality and certification in addition to extensive network tools. They connect various fieldbus modules and allow you to turn a line topology into a star/tree topology. This saves installation effort and long cables, especially in the decentralized IP67 variant.
Easy implementation via TIA portal using a GSDML file
Configuration in Step7, TIA portal and PC Worx
Complete integration of the switch as PROFINET user
In case of device replacement, the device is integrated automatically through the PROFINET name assignment (automatic reconfiguration)
Implementation of ring structures through MRP ring formation
Prioritization of PROFINET telegrams
Protocols: DHCP, SNMP (v1, v2c, v3), RSTP, STP, LLDP, NTP, RMON, SSH (CLI)
Remote Service with OpenVPN Interface
UL and PROFINET approved
Profinet, Ethernet
IP20 (RJ45-Connection): 4, 6 Ports
IP67 (M12-Connection): 5 Ports
Lite Managed Switches
In addition to fast response times, Lite Managed Switches offer numerous network tools and configuration options via an integrated web server. Networks can be set up quickly and errors can be located immediately thanks to extensive diagnostic options.
Configuration via the web server
Protocols: DHCP, SNMP (v1, v2c, v3), RSTP, STP, LLDP, NTP, RMON, SSH (CLI)
Can be used as a NAT switch
Automatic Neighbourhood detection for a quick and easy replacement of defective components
Prioritization of PROFINET telegrams
Remote Service with OpenVPN Interface
UL approved
Profinet, Ethernet
IP20 (RJ45-Connection): 4, 6 Ports
IP67 (M12-Connection): 5 Ports
Unmanaged
Unmanaged switches are ideal for any network where configuration or diagnostic capabilities are not important. They are quick and easy to install and available in a large variety of styles.
The new XELITY switches are produced at Murrelektronik's headquarters in Oppenweiler. This is a guarantee for high-quality, 100% tested and technologically trend-setting products.
No programming effort or expenses
Plug & Play – instant commissioning
Easy device replacement
Large variety
Prioritization of PROFINET telegrams
Profinet, Ethernet, Ethernet/IP
UL approved
"Made in Germany!"
IP20 (RJ45-Connection): 4, 6, 8, 16 Ports
IP67 (M12-Connection): 4, 8 Ports
More Information
Related Video
Simply said, Murrelektronik make sure you get the best connections. For reliable signals and power distribution for different systems and machines in countless industries – worldwide. But they are more than just cables and connectors. They create lasting connections – not only about the technical aspects of the job but also about their personalized customer service. They are Murrelektronik – stay connected!