Mersen Launches Non-Indicating Class RK1 Fuse Series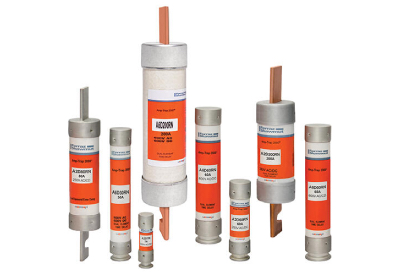 May 17, 2022
Mersen is pleased to announce non-indicating versions of its popular A2D and A6D Series Class RK1 fuses. With this introduction, the Class RK1 Time Delay fuse series now offers a full range of ampere ratings between 8-600A in both indicating and non-indicating categories.
The non-indicating Class RK1 offers same reliability and performance as the globally popular Mersen Class RK1 Time Delay fuse with SmartSpot® indication to customers and applications not requiring similar fuses with indication. Mersen's new non-indicating Class RK1 Time Delay fuse series satisfies National Electrical Code® requirements for use in Class I Division 2 hazardous locations.
Another key benefit of the Mersen Non-Indicating Class RK1 Time Delay Fuse series is that they possess the same size, mounting terminals, and ratings as the Mersen SmartSpot Class RK1 Fuses.
Susan Benson, VP Product Management says, "By adding non-indicating models to our family of Class RK1 fuses, Mersen expands the options available to customers. We are excited to be able to offer our customers both non-indicating and indicating categories that complete our RK1 portfolio."
The UL/CSA Listed Mersen Non-Indicating Class RK1 Time Delay Fuse series is readily identifiable by suffixing the letter "N" to the Catalog Number of the equivalent Mersen SmartSpot Class RK1 Time Delay Fuse. (The part numbers of fuses sized 1/10-7A, already available without indication, will not change.) The new non-indicating A2D and A6D Class RK1 fuses are available immediately.
Approvals & Standards
•UL listed to standard 248-12 File E2137
•DC listed to UL standard 248
•CSA certified to standard C22.2 No. 248.12
Key Features & Benefits
Amp-Trap 2000 time-delay A2D-R fuses provide IEC Type 2 "no damage" protection to existing mains, feeders, and branch circuits serving motor and non-motor loads. A2D-R fuses will open fast enough under extreme fault conditions for maximum short circuit protection to prevent damage to motor starters, switches, and other circuit components, yet also provide the time-delay needed for motor in-rush currents. A2D-R fuses can be used to replace older 250V Class H, K or RK5 fuses already installed in the field.
Applications
•Motors
•Safety switches
•Transformers
•Branch circuit protection
•Disconnects
•Control panels
•All general-purpose circuits
To learn more, visit the A2D Product Page by clicking here, and the A6D Poduct Page by clicking here