Latest ABB Lab Data Management System Cuts Data Collection and Reporting Time in Half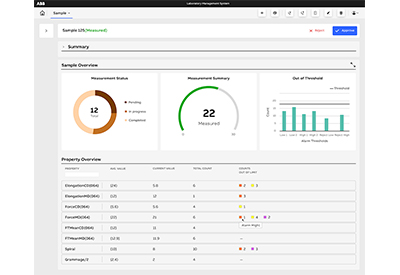 April 27, 2020
ABB has launched its newest automated data acquisition and lab reporting solution, offering pulp and paper manufacturers rapid analysis of lab quality information, with reliable data storage, management and reporting. Purpose built for paper testing labs, the scalable, web-based L&W Lab Management System replaces ABB and other legacy systems, halves procedure times, and tailors lab reporting to users' specific workflow preferences.
The system collects, analyzes and reports on information from lab instruments, as well as ABB's L&W Autoline automated paper testing solution. It compares up to four paper properties and plots trends against previous batches. With instruments connected directly through a local area network (LAN), information is instantaneously accessible through any web-browser equipped device, via a user-friendly dashboard that shows sample data, trends, historical references and KPIs. This eliminates the need for desktop PCs connected to each instrument.
"Our new system is purpose-built for how labs operate," said Per Sandstrom, head of lab and process testing measurements for ABB pulp and paper. "It will significantly reduce the manual work and IT infrastructure which is typical for lab operations in many mills. This is a tool that will help production and quality managers to immediately see and act upon a lab's quality information to improve profit potential, which is our goal for all ABB customers."
Results generated by the L&W Lab Management System can be exported as xml files to external mill-wide systems. Reports generated can also be integrated with the ABB Quality Data Management system and/or the ABB Ability™ Manufacturing Execution System to enable lab information to be included with other key process indicators.
Part of ABB's end-to-end quality control solution for the pulp and paper industry, the L&W Lab Management System is suitable for mills seeking efficiency gains with automatic lab data collection, including those combining L&W Autoline automated paper testing with other stand-alone instruments, and larger mills needing to collect and export lab data to ERP/MES systems effectively.