Hammond Manufacturing Introduces 1551V Sensor Enclosures for the IoT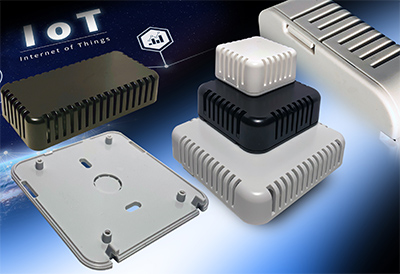 February 12, 2019
The new 1551V miniature ventilated sensor enclosures from Hammond Manufacturing are designed to house sensors and small sub-systems installed in the manufacturing environment as part of IoT systems. While there is no relevant international standard, the 1551V enclosures are designed around the PCB sizes selected by leading sensor manufacturers for their latest generations of products.
The ABS UL94-HB 1551V is available in black, grey and white as standard; four plan sizes, 80 x 80, 80 x 40, 60 x 60 and 40 x 40mm are all 20mm high, maximum PCB sizes are 74 x 74, 74 x 34, 54 x 54 and 34 x 34mm respectively. Four PCB mounts are moulded into the base and the 20mm height gives enough space for board-mounted RJ45, USB and other standard communication interfaces. To simplify access, the snap-fit closure allows repeated opening and closing without tools. There are ventilation slots on all four vertical faces and mounting slots and a 15mm cable knock out in the base.
Environmental sensors monitoring basics such as temperature, humidity and pressure are widely installed, and are now increasingly intelligent sub-systems, with data processing and communications capability embedded on a small PCB. For active components that produce relatively large amounts of waste heat, the 1551V obviously provides excellent airflow for cooling purposes.
Go HERE for a product overview video
Visit the Hammond website HERE