Festo Motion Control Package: Making Motion Control Setup and Integration, Quick and Easy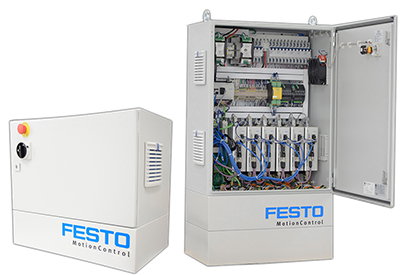 September 13, 2018
The Festo Motion Control Package (FMCP) gives machine and system designers the best of two worlds: a complete, optimized motion control kit for running a Festo handling system – and easy integration and setup of that robot through the user's PLC, whatever the brand. The FMCP can coordinate motion of up to six axes for pick and place and other precision Cartesian robotic applications. Available as a pre-wired and ready-to-install control solution, it provides the kinematics for H-portal, T-portal, 2D, and 3D Festo standard gantry systems. At the PLC, OEMs configure Cartesian motion applications using the FCMP's software function blocks – with no specialized programming knowledge required.
Two years ago, Festo unveiled the Handling Guide Online (HGO) configuration tool for streamlining design of Cartesian robots. By inputting basic application information such as load, cycle time, load voltage, and workspace size, an engineer utilizing this configurator specifies a single axis, 2D, or 3D Cartesian robot and receives a CAD drawing for that robot in about 20 minutes. Quotes arrive on average within 48 hours. OEMs then have the option of ordering a gantry fully assembled and pre-tested or as disassembled modules.
Now, Festo has taken HGO to a new level by offering the FMCP as a complete solution – robotic motion controller, cabinet, components, wiring and quick connection – that can be ordered during the same configuration process. The control cabinet arrives fully wired and ready to be installed.
With the FMCP, all the OEM has to do to get the Festo robot up and running is connect power, Ethernet, IO, and quick-connecting cabling to the gantry motors, then use the function block to fill in key motion parameters. No specialized or manufacturer specific programming knowledge is required. Basic motion can be taught through a webserver or IOS/Android app. The FMCP also offers a solution for end-of-arm-tooling. By including an IO-Link connection, the FMCP can control eight external digital inputs and eight digital outputs that are available in the standard function block.
For more information HERE