Yaskawa GA800 AC Drives for Industrial Applications: Easy, Powerful, and Extremely Reliable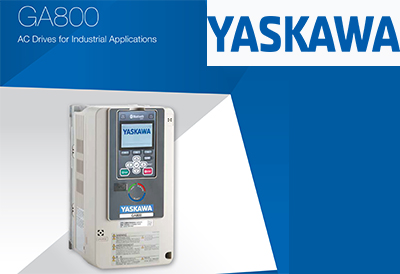 March 29, 2019
Yaskawa, knows your time is valuable. That's why they'vedesigned this variable speed drive to exceed your expectations. Offering world class Yaskawa quality, along with intuitive interaction and high flexibility, the GA800 delivers powerful torque and precise control. Look no further than GA800 for all your variable speed needs.
Making it Easy for You
Forget the learning curve. Let GA800 guide you through its Setup Wizard to get you up and running in a snap!
Enjoy the GA800's intuitive keypad with a vivid display and a host of friendly
Experience ultimate ease-of-use and flexibility with DriveWizard PC and Mobile tools featuring Bluetooth® connectivity and cloud
Making it Flexible for You
Easily and impressively control all major 3-phase motors.
Connect and control the GA800 from your favorite network.
Customize GA800 from its rich set of control features.
Making it Sustainable for You
Embedded Functional Safety reduces your down-time.
Enjoy long life with conformal coated circuit boards and solutions for harsh enviroments.
Electrical design that's friendly to your power system and surrounding equipment.
Produced with materials responsible to our planet.
The GA800 is the one drive you need for all types of motors. It precisely controls induction, permanent magnet and synchronous reluctance motors. Say goodbye to the days of complex motor setup!
The Yaskawa GA800 drive provides the ultimate combination of power, ease of use, flexibility, and performance. In addition to its exceptional torque production and precise control, you'll enjoy effortless setup with GA800's high-resolution display and connection to your favorite mobile device. Whether you need simple control, advanced network communications, or functional safety, look no further than GA800 for all your variable speed needs.
Motor Control Benefits/Features:
Flexible Motor Control
Whether you prefer discrete / analog control or high speed communication, GA800 covers all your needs for control interface and provides robust connections on all major networks.Controls traditional and emerging motor technologies
Easy and accurate autotuning provides optimized performance for each connected motor
Optimized control avoids tripping even with aggressive settings
Impressive open loop vector control
Precise and high response closed loop vector control
590Hz maximum frequency
110% normal duty overload
150% heavy duty overload
Integrated brake transistor up to 125 HP (ND) / 100 HP (HD)
Connect with standard network modules for conventional and robust star configurations
Connect with dual port network modules and daisy-chain your connections for ring or line configurations. A great choice for decentralized drives
Maintain control power with main power removed by supplying your 24VDC to the GA800's auxiliary input
Connect up to 5 drives from a single network node by adding slave drives over the GA800's embedded RS-485
A standard feature of the GA800 is Safe Torque Off, which prevents torque production to the motor even while main input power remains applied. This minimizes your downtime when people enter your mechanical safety zone. Normal operation is resumed faster.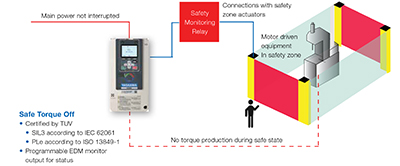 Designed to control traditional and emerging motor technologies through 600 HP, the GA800 handles applications ranging from simple fans and pumps to high performance test dynamometers requiring precise regulation. In addition to its robust and powerful design, the GA800 provides highly flexible network communications, embedded functional safety, and easy-to use tools featuring mobile device connectivity.
Highlights
High resolution multi-language display with Setup Wizards and Data-Logging.
Bluetooth and DriveWizardMobile for convenient and easy interaction.
Programming without main power through embedded USB port.
DriveWizard Desktop for comprehensive configuration and monitoring.
DriveWorks EZ (embedded function blocks) provides extra flexibility, otherwise accomplished in a separate controller.
Closed or open loop vector control for outstanding regulation and torque production.
Fast acting motor control functions provide near tripless operation.
Popular network connections provide robust control and monitoring with system controllers.
Embedded Auxiliary Control Power Input (24V) maximizes production time and efficiency by maintaining network communication while main power is removed.
Embedded Safe Torque Off minimizes downtime for applications requiring occasional intervention (SIL CL3, PLe, Category 3).
Integrated DC Reactor (40HP and larger) improves power quality and compatibility.
Integrated 12 Pulse version provides a cost effective solution for low harmonics.
Integrated Brake Transistor (up to 125HP ND) for cost effective heavy braking.
Standard conformal coating helps resist contamination.
Made with RoHS compliant materials for environmental compliance.
Go HERE for more information