Bosch Rexroth: Additional sizes for Ball Screw Assemblies – The more dynamic way to achieve your goal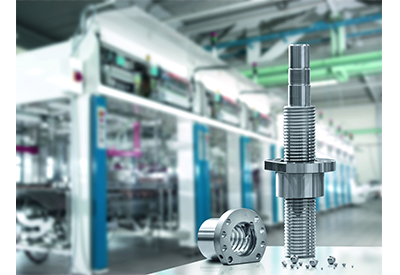 July 25, 2019
With the most popular Ball Screw Assemblies now available in four new sizes, constructors can tailor drives and linear motion systems even more precisely in order to achieve optimum dynamics.
With quicker linear movements, machine manufacturers can increase productivity. With higher forces and precision requirements, the delicate interaction of the rotary speeds and torque of the electrical drive system with the size of the Ball Screw Assembly is crucial. With the four new sizes 8×5, 40×25, 40×30 and 50×30, Rexroth has further expanded its range of BASA Ball Screw Assemblies. With multi-start spindles and multi-start nuts, the load ratings and service lives of Ball Screw Assemblies are increased.
Ball Screw Assemblies from Rexroth convert the rotary motion of the motor into linear motion. The new sizes increase the options available to constructors in a range of applications, for example machine tools.
The BASA product portfolio from Rexroth includes solutions for driven screws and nuts as well as a wide range of nuts with DIN and Rexroth connection sizes. For most applications, machine manufacturers use pre-tensioned nuts for zero-clearance movements with a high level of repeatability. Rexroth offers off-the-shelf pre-tensioned nuts as well as types which users set individually.
The contact point between the raceway and the balls has a considerable influence over the smoothness and load rating: The use of a double-start nut and spindle doubles the number of balls without increasing the amount of space required and thus increases the load rating. By using double-start nuts rather than single-start ones, constructors can select a more compact construction with smaller dimensions or increase the service life when using systems of the same size. The BASA product portfolio includes multi-start spindles and nuts as standard.
Rexroth manufactures the spindles as a mass-produced warehouse product using a rolling process. They are manufactured with such precision that the various nut types can be produced separately. As a result, the company can quickly provide order-specific designs with standardized or individual end machining.
The Linear Motion Designer (LMD) calculation tool makes it easier to dimension and carry out calculations for BASA Ball Screw Assemblies. Constructors configure the variants they require using the online Ball Screw Assembly Configurator. With image control, this guides users quickly through the configuration process and, if parameters have changed, automatically carries out a plausibility check. The LMD then generates the CAD data and makes them available for downloading. In a further step, users can switch to the e-shop and obtain details of the price and delivery time.
Rexroth provides complete Ball Screw Assemblies with machined ends and a wide selection of nuts as well as individual spindles and nuts.