AutomationDirect Adds ProSense Advanced Process Controllers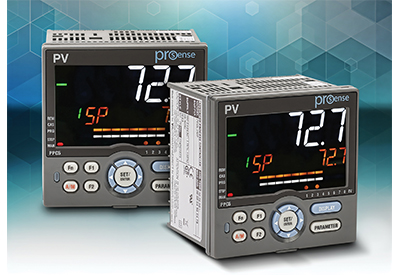 April 23, 2020
Made exclusively for AutomationDirect by Yokogawa, ProSense® PPC5 series advanced process controllers handle temperature, pressure, level, flow, and other process variable control applications and offer a variety of control, input, output, alarm and communications options.
These 1/4 DIN controllers accept inputs directly from thermocouple, RTD, and analog mA, mV, V signals. Remote setpoint and contact input options are available.
Control outputs include relay, voltage pulse, or linear current. An analog output to represent the PV, SP, target SP, remote SP, or output signal is available. Three alarm contact outputs can be configured for 30 alarm types and 10 alarm functions.
Control modes include single loop, loop control with PV hold, and cascade. Control types available are PID, On/Off, batch PID and manual control. PPC5 series controllers are available with no communications or with RS-485 Modbus ASCII/RTU, or Ethernet+RS-485 gateway Modbus TCP/IP communication options.
Priced from $325.00, ProSense PPC5 controllers are configured with the keypad/display or free downloadable configuration software is available. ProSense advanced process controllers are UL, CSA, CE approved and have a 3-year warranty.
Learn more by visiting: www.automationdirect.com/process-controllers.