All New, Redesigned PS61 OEM Subminiature Pressure Switch from Gems Sensors & Controls
November 8, 2022
The PS61 Pressure Switch has been updated with reliable piston-diaphragm and sealed piston technology. Available in broad configurations to meet agricultural, medical, fire suppression and general industrial applications needs. Most configurations can be shipped in 4 weeks or less.
•Configurable Selections – A host of ports and electrical options to fit your application needs
•Lightweight, Compact Design – Less than 2" (50 mm) long body & weighs under 2 oz (75 g)
•Wide Media Range – Resistant to most fluids & environments
•High-Temperature Range – Operates from -40° F to +250° F (-40° C to +121° C)
•Reliable – Designed for over 2,000,000 repeatable cycles
•Durable & Environmentally-Sealed – Available up to IPX7, IPX9K & IP6KX
•High Shock & Vibration Resistance – Tested to MIL-SPEC
•Broad Pressure Range – Low (10 PSI / 0.7 bar) to High (4350 PSI / 300 bar)
•Approvals – CE, RoHS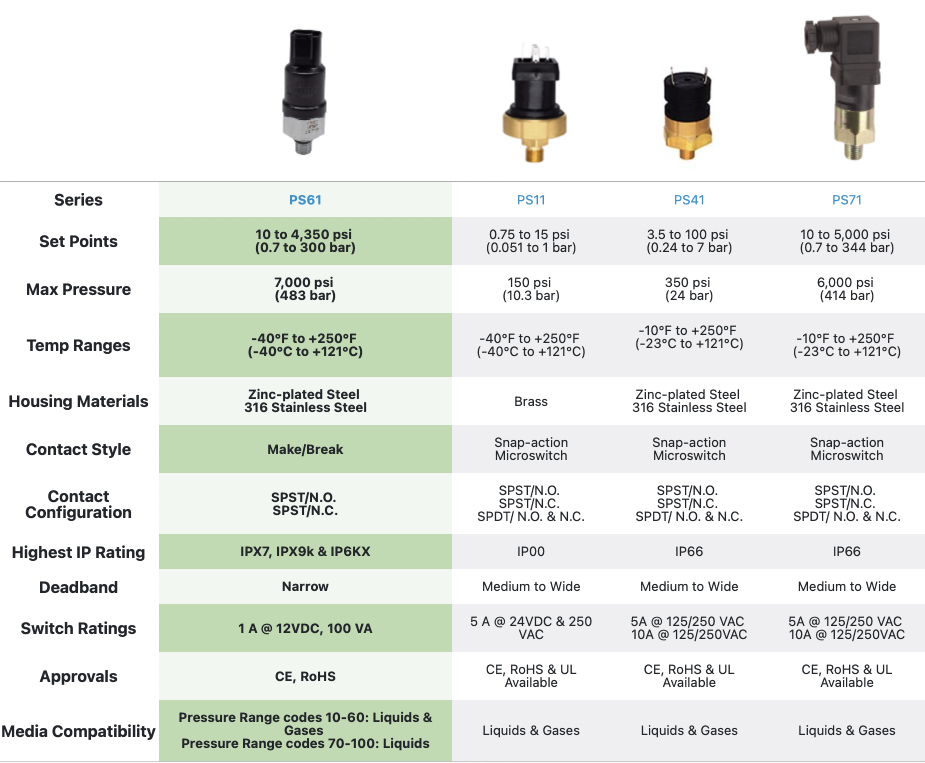 Sensing Fluids
•Coolant
•Hydraulic Oil
•Air
•Engine Oil
•Brake, Power Steering, and Transmission Fluids
•And Many Others!
Applications
•Load Moment Indication
•Pumps & Compressors
•Hi/Lo on HVAC Systems
For more information on the PS61, click here