ABB Launches Newest Generation Of L&W Bending Tester for Easy, Fast and Reliable Paper Testing
April 27, 2023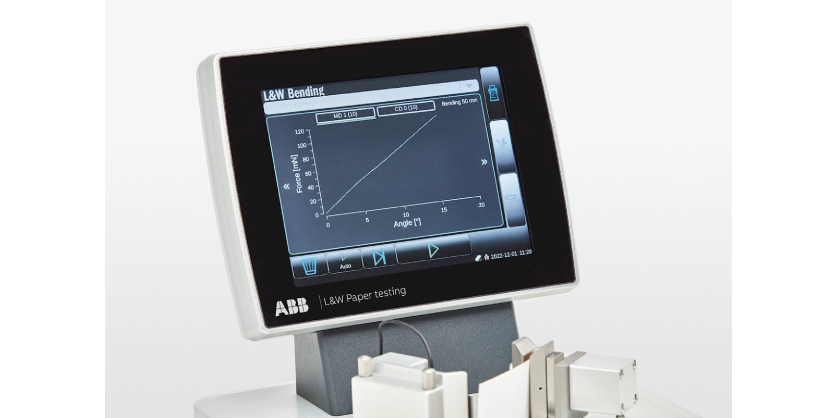 ABB has enhanced its L&W Bending Tester with new features to deliver easier and more reliable operator-independent bending resistance and stiffness measurements.
Operator-independent benchtop instrument builds on previous technology to enhance ease-of-use, customization and digitalization
New offering addresses daily pain points to make lab testing faster and lifecycle management easier
Possibility for integration with ABB data management increases visibility and accuracy to drive precision of bending resistance and stiffness measurements
The L&W Bending Tester, which measures resistance to bending in paper and packaging, is a standalone benchtop instrument featuring a large touchscreen with user-friendly interface and improved post-processing for ease-of-use and instrument check and calibration. Integration with other ABB offerings, such as L&W Lab Management System (LMS), also means connectivity to the full Quality Data Management module within the larger Manufacturing Execution System (MES), enabling greater visibility of quality data across the mill and enterprise.
The new features aim to address the pain points faced by lab and quality managers in mills to ensure optimized bending properties from accurate resistance and stiffness testing, important in the handling and protection of packaging products. Low bending resistance/stiffness can cause runnability issues during printing of paper, foldability issues during converting of board into packaging boxes, and stackability issues during handling and storage of packaging boxes. Accurate measurement of bending properties is therefore critical to ensure specifications are met and these issues avoided, which in turn will improve productivity and costs.
Several new features enhance the ease-of-use for operators and help them to overcome challenges associated with older, complex or difficult-to-operate instruments:
A test piece is clamped automatically and precisely with a support for easy sample loading, aiding the operator and leading to a repeatable measurement process
A new ergonomically placed start button is pressed, and the testing sequence starts automatically with an improved auto-touch function
A large touchscreen with customizable programs, options for instrument check and calibration, and adjustable testing speed and bending angle makes it easy for the operator to select the right options and program settings
In addition, bending length is automatically detected, which ensures the correct settings are selected every time. On-screen results include an overview of the measurement series and a graphical display of the bending curve with break angle/force. Notably, this model also accommodates bending lengths as short as 1mm or as long as 50mm.
"ABB has a long history of providing paper testing technology that sets us apart in the market. With each new generation, we strive to improve and add features that will benefit our customers the most," said Ghazal Amar, Global Product Manager, Paper Testing Equipment, ABB. "We are pleased to introduce the latest features that make our L&W Bending Tester the easiest to use, highly automated and digitally enabled instrument on the market for bending resistance and stiffness testing."

Ghazal Amar, Global Product Manager, Paper Testing Equipment, ABB
L&W Bending Tester joins the many benchtop instruments in the product line that can be managed via myABB for L&W, which is a self-service customer portal for critical installed base data, service information, documentation and case tracking.
More Information
Testing and industry-specific instruments and automated paper testing
Related Product
ABB has entered into a partnership with ACA Systems, a leading supplier of porosity sensors, to offer paper mill customers a proven technology that stabilizes the process to enable excellent roll quality when measuring online porosity. The single point ACA Permi sensor uses a continuous air flow method that is 50 to 100 times faster than other systems available on the market to reduce air permeance variations, enabling better product quality, optimized energy usage and reduced raw material costs.