ABB introduces new drive for US water and wastewater markets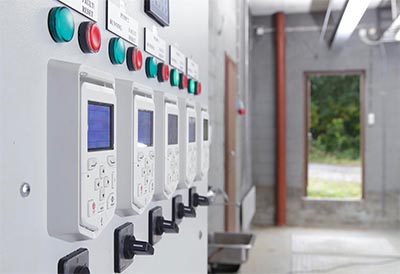 March 11, 2019
The ABB ACQ580 variable frequency drive (VFD) for the water and wastewater industries enhances system performance, simplifies commissioning and operation, and optimizes wire-to-water/-air efficiency. It also improves flow and reliability in municipal pumping and aeration applications. The ABB ACQ580 is now available through authorized ABB water and wastewater channel partners.
The VFD includes features that are specifically designed for municipal markets. For example, the pump clean feature dislodges debris from impellers, while the sensorless flow calculation feature provides accurate flow measurement without a flowmeter. Features, such as the soft pipe fill mode reduce waterhammer damage, while the quick-ramp feature protects submersible pumps. The ACQ580 is compatible with ABB Ability condition monitoring services, which allows customers to obtain real-time data about the status and performance of the monitored equipment from any location.
The VFD also features dry-run protection that prevents pumps from running without water and embedded PID controllers that automate flow, pressure, level and dissolved oxygen. The multi-pump control feature manages operation of up to eight pumps simultaneously.
The ACQ580 also includes integrated safety features such as safe torque-off and a maximum speed limit to protect against over speeding. These reduce risk during the VFD's operation and servicing. Safety is further enhanced with an optional device that enables the drive to be programed without primary power.
The menu-based programming simplifies the VFD's set-up and operation. The VFD's easy-to-use keypad uses industry terminology that enables intuitive system monitoring and operational tuning. The optional Bluetooth keypad provides connectivity between the VFD and mobile devices and provides an extra level of safety for commissioning and troubleshooting.
The VFD works with a wide range of motors, from standard induction to permanent magnet and synchronous reluctance. Its wide range of power ratings and control technologies means that the VFD can be used for any application in the facility and can upload or download configurations via the keypad. It provides fast and reliable communication between drive, PLC and SCADA via a broad range of fieldbus protocols, and simplifies connectivity through embedded inputs and outputs.
The ACQ580 is the latest addition to ABB's drive portfolio and is supported by the ABB service network.
The product family includes 1 to 700 horsepower (hp), 480 Volt (V), 100 hp, 240 V, and 300 hp, 600 V and
is available in enclosure classes UL Types 1 and 12.
Go HERE for more information