ABB: EC Titanium Integrated Motor Drive
December 15, 2020
The EC Titanium integrated motor drive by ABB promises 'synchronous reluctance and permanent magnet technologies for a sustainable, wirelessly connected solution that improves customers bottom line.' According to Global Product Manager, Mark Gmitro, the product was inspired by direct customer feedback requesting an IE5 efficient product, that could function as a drop-in replacement for standard NEMA mounted motors. As new system efficiency regulations emerged, ABB responded to the demand with the development of the EC Titanium motor, integrated drive, and motor product line. This new motor can maintain the required efficiency levels at both reduced speed and partial load conditions.
As Gmitro explained, "We have had fan and pump OEMs request IE5 level efficiency to get ahead of government regulations and proactively redesign their equipment. This gives them a competitive advantage in the marketplace for a longer period."
But the transition has not been seamless—they have met some reluctance in switching due to the work required in redesigning equipment and updating application drawings for new technology. At a 15HP design, a tradition induction motor would become too big. That is why the EC-Titanium was designed to provide a compact, highly efficient, and quiet operating motor with minimal redesign.
But how exactly does the EC Titanium stand apart from other motors in terms of efficiency, and how does it maintain it?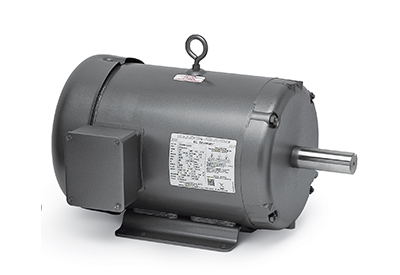 Most notable is the ferrite-assisted synchronous reluctance (FASR) motor, which achieves efficiency levels above IE5. These FASR motors experience no losses in rotor, and the addition of ferrite magnets results in lower losses in the stator. This produces the extremely high efficiency and enables the motor to maintain this efficiency at lower speed and partial load points that are typical for variable torque applications.
The motor is also capable of running above base speed, producing a wide flat efficiency region. By allowing manufacturers to select the best pump or fan design to optimize overall system efficiency, and combined with the unique design, the end result is a cool-running motor with excellent power density, a power factor above 90%, and minimal bearing and winding temperature rises. In addition, the ferrite assisted magnets means ABB is not using rare earth magnets in its product. Ferrite is readily available and can be mass-produced like induction motors.
As for the clientele, ABB predicts that fan, compressor, and pump OEMs will have the most interest in the EC Titanium. Because these applications commonly run at partial loads, they have the most opportunity to save energy. They also predict that, due to the flexible mounting options provided by the integrated drive and motor, they will see an interest from those working in situations where cabinet places many be limited.
"A leading American manufacturer of commercial HVAC systems recently selected ABB's EC Titanium for their next generation of premium and compact rooftop air handling units," Gmitro explained. "The customer determined that, with EC Titanium, ABB offered a better performing motor than other manufacturers being considered and cited EC Titanium's higher efficiency, standard, drop-in size and lower cost as additional reasons for choosing ABB. The availability of a wider range of motor sizes and the support provided by ABB sales and engineering teams were also important factors in the decision. Their decision came down to more than the efficiency story; they felt this product has a lot more capabilities, more flexibility, and allows for innovation in design."
What's the next step for ABB and the EC Titanium? ABB is introducing Plenum Use products and C-Face configurations to support HVAC and pumping applications. In the future, they are looking to use the technology to expand the offering portfolio for the product line. So far, the motor is only available at 575V, and carries the CE certification in addition to cUL markings.
For more information, visit www.abb.ca.