SEW-EURODRIVE: Fieldbus Interface / Field Distributor MOVIMOT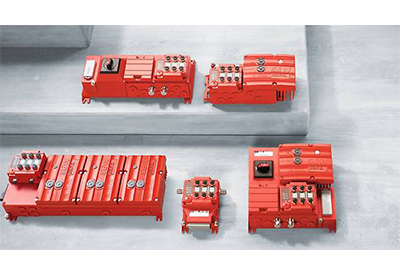 October 6, 2020
The fieldbus interfaces support communication with the most frequently used fieldbus systems PROFIBUS, PROFIsafe, INTERBUS, CANopen, DEVICENet and AS-Interface.
The fieldbus interfaces are based on a module terminal box with connecting terminals and a plug-in fieldbus module. They can be installed directly on the drive, in the field or in the field distributor as required.
The variable-speed MOVIMOT drive is connected to the bus using terminals. Additional sensors, actuators or MOVI‑SWITCH gearmotors without closed-loop control can be connected to the bus either using terminals or M12 plug connectors. Fault can be easily diagnosed via the bus in the event of a malfunction thanks to diagnostic interfaces and LED signals.
Field distributors rationalize the connection of drives with the power supply system, the DC 24 V control voltage, and the fieldbus. They are based on the bus interfaces technology with additional connection technology for supply system distribution. Mounting the field distributors close to the motor simplifies decentralized installation. The modular plug-in system makes for easy troubleshooting and maintenance, especially if there is a problem.
SEW-EURODRIVE's hybrid cables were developed in house and are combination cables that carry the power supply, control voltage and communication strands in one cable sheath. They also guarantee optimum EMC shielding and impedance.
The hybrid cable for connecting MOVIMOT units to field distributors is 3 m long. It combines the communications interface, supply and control voltage connections in one cable and is supplied as a pre-fabricated cable with a plug-in connection.
MOVIMOT drives fitted with hybrid cables can be connected to the field distributor in a matter of seconds – ready to operate. For servicing, the connector can be disconnected without any danger, even by personnel without technical training. The drive can be replaced and the new drive reconnected quickly. The system is ideal for all systems which demand high levels of operating availability.
Fieldbus interfaces MF
– Connection of MOVIMOT and MOVI‑SWITCH drives to a standardized fieldbus system
– Controlling actuators via digital input and output terminals
– Degree of protection IP65
– Optional package:

– IP66/IP67 degree of protection
– Stainless steel fittings
– Pressure compensation fitting

– M12 metal plug for fieldbus modules with M12 plug connector
Fieldbus interfaces MQ
The optional fieldbus interfaces of the MQ.. type are based on the same housing and fieldbus technology as type MF… fieldbus interfaces, but are additionally equipped with an integrated controller featuring the following functions:
– Programmable using IPOSplus
– Simple positioning with EI76 incremental encoder
– Integrated I/O preprocessing and timing elements
Options for MF../MQ.. fieldbus interfaces
MFG11A keypad: The MFG11A keypad is plugged onto any MFZ.. connection module instead of a fieldbus interface for manual control of a MOVIMOT drive.
DBG60B keypad: The DBG60B keypad can be used to control MOVIMOT drives via a fieldbus interface in manual mode. Furthermore, the process data words can be displayed in monitor mode. The DBG60B keypad is connected directly to the diagnostic interface of the MF..MQ.. fieldbus interface.