Susanne Kunschert and Thomas Pilz: Financial Year 2022 and Forecast for 2023
May 29, 2023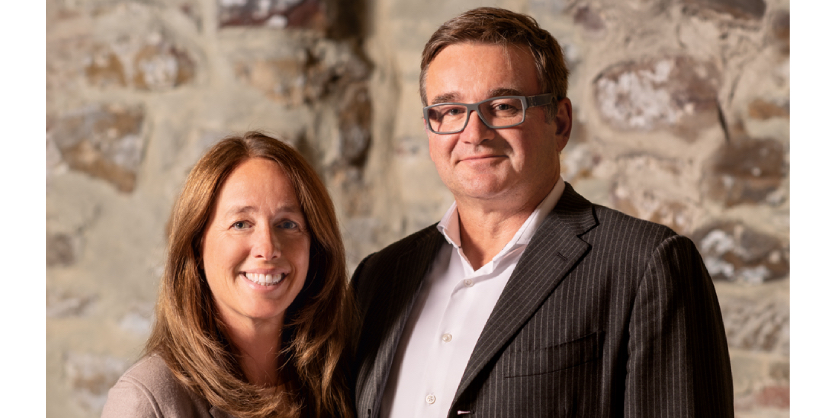 2022: A difficult but positive year for Pilz
2022 was both a difficult and yet a positive year! On the one hand, we all heard the terrible news of war and natural disasters. In addition there were disruptions to the supply chain and a shortage of components, which meant that our employees had many difficult negotiations and some emotional conversations with our suppliers and our customers. As a company it felt like you could never do enough.
But on the other hand, we at Pilz have collectively managed to make the best of such adverse and imponderable economic conditions. We have remained optimistic. Across all countries and all departments. That's why we are very pleased with the good result.
In 2022 the company had a turnover of 403.3 million Euro, representing a sales growth of 15.8 per cent. That means that, despite the supply chain and component problems, we manufactured and delivered more devices than ever before in the company's history.
If we consult the figures of the two industry associations VDMA and ZVEI, then our turnover has grown faster than the industry average. We owe this to our comparatively good delivery capability, and therefore to employees who work so tirelessly to ensure that we can manufacture and deliver today and in the future. My mother Renate Pilz coined the phrase that we want to work not just with one another, but for one another. For one another for the customer. That makes us strong and is what has sustained us. For this my brother and I would like to take this opportunity to thank all our employees worldwide for their commitment and dedication in advocating for the company and our customers, day after day.
The share of exports increased by 1.1 percentage points in 2022 and is now 76.3 per cent. Pilz experienced particularly strong growth in Asia. Germany remains the largest market for Pilz.
Delivery capability remains the focus
Supply chains have generally stabilised and component availability has improved – but there can be no talk of a sustained easing. Individual components are temporarily no longer available from one day to the next. So one of purchasing's main tasks is still escalation management. Although there is greater availability of semiconductors, for example, there is still a bottleneck. Goods must be allocated, and a delivery time of over a year is not unusual. That's why Pilz continues to treat delivery capability as a priority. Our supply chain taskforce will remain.
In the last few months we have been able to make up most of the backlog. This was only possible because our employees at all production sites worldwide worked additional shifts last year, at night or on Saturdays, and continue to do so.
Thomas Pilz
75 years of Pilz – Values. Create. Future.
This year Pilz is celebrating its 75th anniversary. In 1948, in the difficult economic period after the Second World War, our grandfather Hermann Pilz founded a glass-blowing business in Esslingen. In the 1960s, his son Peter Pilz, our father, used his pioneering spirit to transform the company from the manufacture of glass apparatus to electronics, initiating not only the technological transformation but also the internationalisation that characterises Pilz to this day. He founded the first subsidiaries in the 70s – in Austria, France and Switzerland. In the early 70s, Pilz was one of the first companies in Europe to introduce PLC systems to the market.
In the 80s, now under the management of Renate Pilz, Pilz founded modern, electronic machinery safety with the PNOZ, the world's first safety relay. In the 90s and 2000s, Renate Pilz recognised the possibilities of digitisation for automation. Since the end of 2017, Susanne Kunschert and Thomas Pilz have jointly managed the company as the third generation of managing partners. So Pilz has always continued to transform itself. One thing common across all times of transformation is joy in innovation. Our Christian values are our roots, our foundation. They are expressed in the togetherness, interaction, trust, reliability and helpfulness at Pilz.
Mutual appreciation and a respectful approach
Mindfulness and care
Honesty and openness
Loyalty and reliability
Hard work and a willingness to help
Thus we were able to accept the challenges and become the company we are today.
We look forward to the anniversary with deep gratitude and complete joy. Our employees make our company what it is. We also extend our thanks to our suppliers and our customers, because without customers there is no business, without suppliers no production. We have developed from the founding generation into the established medium-sized enterprise of today. That's not something you can take for granted. The company's continued existence is something you have to work at every day.
Pilz will continue to exist because the company will continue to transform itself. It's important to keep developing, because standing still is harmful to any organism. So we will continue working on the technical challenges and take the opportunities that come our way.
Sustainability is firmly established
It is our duty to ensure that subsequent generations live in a world in which they can enjoy safety, health and well-being. We want to work and manufacture in ecologically designed buildings, in a way that's environmentally-aware, energy-saving and cost-conscious. That has always been enshrined in our corporate objectives. At Pilz we see sustainability holistically – for human, machine and the environment. We have published our first Pilz sustainability report in accordance with the German Sustainability Code. The second, international report will follow this year.
Occupational safety has the highest priority at Pilz. We want to create a working environment that promotes the health of our employees. That's why in recent months we have been working on an important certification. The result: Pilz meets the first international standard for occupational health and safety management systems, ISO 45001.
At Pilz we are committed to quality. High product quality also means fewer returns and less scrap. However, should a device be defective, we invite customers to return it to us. Our Repair Centre staff check the extent to which the defective device can be re-used, either by repair or by exchanging individual components. We also offer our customers in Germany the option to return our products at the end of their lifecycle. In the past we have been able to increase the waste recycling rate to 95 per cent.
As we want to minimise our CO2 emissions, we have calculated our CO2 footprint for a product, for example. The result: in this case, polycarbonate housing accounts for the largest share of CO2 emissions. That's why our development department is working hard to switch to "greener" plastics. What's more, we are cooperating closely with the University of Linz in a research project to develop more environmentally-friendly materials. Our devices that are used for machinery safety must meet the requirements of the various international inspection authorities. That also applies for recyclable or bio-based plastics, of course.
In person or digital: it's all in the mix
It's precisely work on future issues like this that requires an exchange, a community of people. This is most successful in person, with direct interaction. That's why at Pilz we are extremely happy that our employees are able to return to the workplace at the end of the Covid pandemic. Because this is where work is focused. Of course we also offer our employees the option of mobile working two days a week. This gives employees greater flexibility and helps with work/life balance. Ultimately it's all in the mix!
Susanne Kunschert
Number of employees also rises
As of 31.12.2022, Pilz employed 2,399 staff worldwide in 42 countries. That is an increase of 2.7 per cent. In Germany, the number of employees was 1,010 (as of 31.12.2022), representing a rise of 1.7 per cent. Traditionally, Pilz places great value on a strong in-company training programme: on 31.12.2022 we had 43 trainees at the company's headquarters, including 21 students from the Baden-Württemberg Cooperative State University (DHBW). In 2023 we want to give a further 21 young people a sound start to their working life: 8 trainees and 13 students from the university.
Continuing training and knowledge transfer are an area of focus for our global human resource activities. In the last year we have successfully rolled out an international competence management system for 220 employees in the areas of engineering and consulting. As a result we achieve our goal of offering our customers services such as consulting, engineering and training to a standardised level worldwide in all subsidiaries.
Pilz invests and says "Yes!" to 2023
We will continue to be surrounded by uncertainty and crises. Now, as in the past, we must accept how it is and always make the best of it, putting all our energy into creativity.
At Pilz we have always reinvested our profits, so that we can continue to grow independently. By 2025 we want to invest around 38 million Euro in our global production sites at our headquarters in Ostfildern (Germany), in Betschdorf (France), Bad Ragaz (Switzerland) and Jintan (China), expanding and renewing our SMD manufacturing, relay production and intralogistics, for example. Our aim is to use networking and digitisation to remain flexible, by using automated guided vehicle systems or building an automated warehouse, for example.
That way we will not only increase efficiency and capacity, but we will also meet the technical challenges on plants, such as miniaturisation in electronics or the skills shortage.
Investments in our existing factories also demonstrate our commitment to our production sites, three of which are in Central Europe. As our head office, Ostfildern is and will remain the home for our whole value added chain, plus development, IT and HR. Development and production belong together at Pilz.
Pilz has made a good start to 2023 and we are aiming for further growth in terms of turnover and number of employees, in a persistently difficult environment.
When we look at 2023, so far there's no doubt that you still cannot talk in terms of a normal year. But we move forward with optimism – greeting whatever comes the company's way with a joyful "Yes!".
Related Story
The Pilz corporate group has a demanding, but successful 2022 financial year behind it: despite the difficult environment conditions in 2022, the automation company achieved a record turnover of 403.3 million Euro. Delivery capability remains a defining issue. In 2023 the family business celebrates its 75th anniversary with the motto "Values. Create. Future." and greets the future with a joyful "Yes!". In the next three years, Pilz will invest around 38 million Euro in production and production technology worldwide.