Successful 2022 Financial Year for Pilz: Turnover Above 400 Million Euro for the First Time – "A year That was Both Difficult and Positive"
May 29, 2023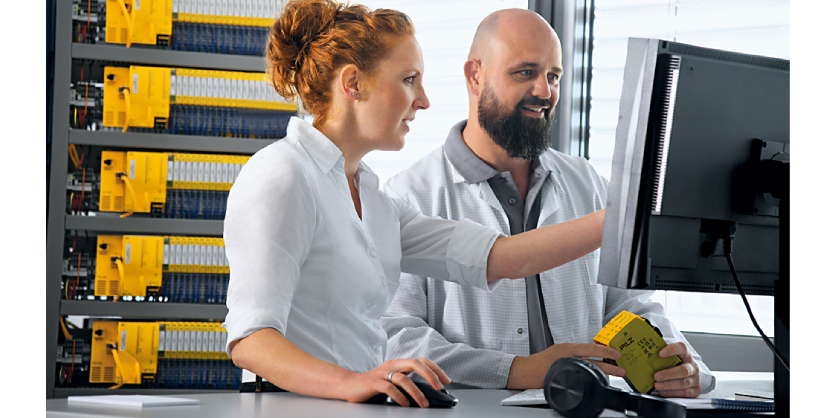 The Pilz corporate group has a demanding, but successful 2022 financial year behind it: despite the difficult environment conditions in 2022, the automation company achieved a record turnover of 403.3 million Euro. Delivery capability remains a defining issue. In 2023 the family business celebrates its 75th anniversary with the motto "Values. Create. Future." and greets the future with a joyful "Yes!". In the next three years, Pilz will invest around 38 million Euro in production and production technology worldwide.
"2022 was both a difficult and yet a positive year! We at Pilz have collectively managed to make the best of such adverse and imponderable economic conditions. That's why we are very pleased with the good result," says Susanne Kunschert, Managing Partner of Pilz GmbH & Co. KG, looking back with gratitude.

Susanne Kunschert, Managing Partner of Pilz GmbH & Co. KG
In 2022 the company had a turnover of 403.3 million Euro, representing a sales growth of 15.8 per cent. The share of exports increased by 1.1 percentage points to 76.3 per cent in 2022. Pilz experienced particularly strong growth in Asia. Germany remains the largest market for Pilz. Despite noticeable easing on the procurement markets, Pilz continues to treat delivery capability as a priority.
In addition, by 2025 the company will invest around 38 million Euro in its global production sites at its headquarters in Ostfildern (Germany), in Betschdorf (France), Bad Ragaz (Switzerland) and Jintan (China), expanding and renewing its SMD manufacturing, relay production and intralogistics, for example.
Number of employees also rises
The number of employees also rose in 2022. As of 31.12.2022, the automation company employed 2,399 staff worldwide in 42 countries. That is an increase of 2.7 per cent. In Germany, the number of employees was 1,010 (as of 31.12.2022), representing a rise of 1.7 per cent. Traditionally, the company addresses the skills shortage with a strong in-company training programme: on 31.12.2022 there were 43 trainees at the company's headquarters, including 21 students from the Baden-Württemberg Cooperative State University.
Outlook: Industrial Security guarantees productivity
Pilz is a supplier of safe automation solutions. The company is expanding its offer in the field of Industrial Security. In addition to technical solutions, Pilz also provides support in the form of services and training.
"In the next few years, the whole of industry faces huge challenges regarding security. To guarantee productivity, machines must be protected from manipulation and unauthorised access", explains Thomas Pilz, Managing Partner at Pilz GmbH & Co. KG. "Companies must also adapt promptly to changing statutory provisions, such as the new Machinery Regulation or NIS II. We support our customers through this process", he adds.

Thomas Pilz, Managing Partner at Pilz GmbH & Co. KG
75 years of Pilz – Values. Create. Future.
In 2023 Pilz celebrates its 75th anniversary. "Our company has continuously transformed itself – from a glass-blowing business to an electronics company, to an automation and digitisation company. All those times have this in common: our corporate values and the joy of innovation. That's why we were always able to focus on the challenges and become the company we are today", Thomas Pilz explains.

Thomas Pilz, Managing Partner at Pilz GmbH & Co. KG
Pilz says "Yes!" to 2023
Pilz has made a good start to 2023 and is aiming for further growth in terms of turnover and number of employees in a persistently difficult environment. Susanne Kunschert looks positively to the near future: "When we look at 2023, so far there's no doubt that you still cannot talk in terms of a normal year. We are feeling our way forward cautiously, but optimistically – greeting whatever comes our way with a joyful "Yes!".
Related Story
"What a quarter. Three record months in a row! The best quarter ever! 57% growth compared with the first 6 months of 2020 (which were the best months up to then).
Thank You to all our customers. Thank You, Pilz distribution partners. Thank You, fantastic Pilz Canada team.