Selecting the Best Gearbox Oil
When making a gearbox purchase decision, oil is a seemingly small detail but can make a huge difference in your gearbox's life
February 10, 2023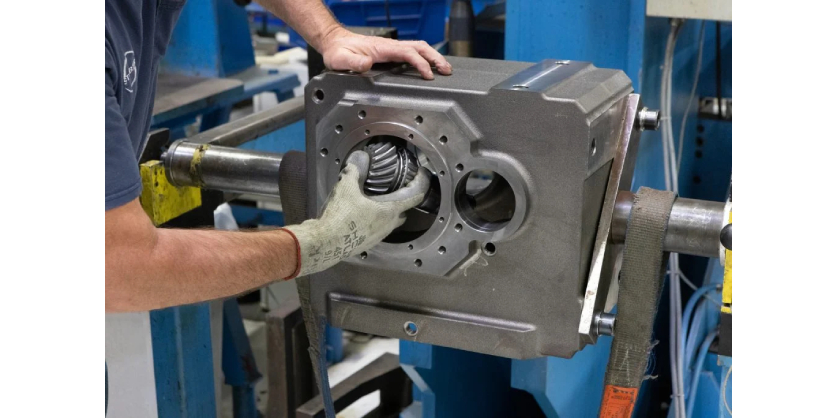 One of the most vital parts of a gearbox, and gearbox oil is too often treated as an afterthought. Gearbox oil leaks can be a maintenance nightmare – especially in food or beverage applications. STOBER knows differences matter, which is why we evaluate our lubrication thoroughly when selecting the best gearbox oil.
STOBER's Exxon Mobil lubrication has undergone substantial testing and analysis to ensure we can handle your application requirements. STOBER's reducers have all gear teeth ground prior to assembly and their oil plugs use neodymium magnets, removing any contaminants and wear particles out of the oil bath and preventing them from reaching bearing races and critical seal lips.
STOBER's KSS stainless steel, K iron, C iron, and F iron reducers require no gearbox oil changes and no maintenance due to efficient gearing, housing design, quality components, and expert assembly. This applies to all units with a Food Duty or Corrosion Resistant package. The reducer housings can dissipate the heat generated during operation faster than the unit can build up thermal pressure. Therefore, a breather is not required to vent thermal pressure to prevent seals from pushing out of the seal bore. Since the units do not have a breather, they are completely sealed and do not require preventive maintenance oil changes.
When making a gearbox purchase decision, gearbox oil is a seemingly small detail but can make a huge difference in your gearbox's life. Check out their Power Tips to watch their video about five questions you should ask about oil when selecting gearboxes.
Tools and Software
From design to purchase to install, be sure to use STOBER's free tools and software to help you implement the best mechatronic solution. Download drawings with their CAD tool, review technical data or dimensional drawings via their Configurator, or look up operating and assembly instructions on their Product ID tool.  Plus, they have an entire YouTube library of installation and maintenance videos!
With a few simple clicks, you can download drawings, technical data sheets, or dimensional drawings of any STOBER product. Plus, you can easily request a quote.
The STOBER Configurator – configure your gearbox, rack and pinion, geared motor, or motor online! Quickly apply filters, compare, and download a CAD drawing. You can request a quote too!
Are you looking for CAD data? With the STOBER CAD tool, you can download the drawings you want with just a few clicks.
Do you have a STOBER product and need correspondence operating and assembly instructions, spare parts lists, or information on technical features?
Complete design of drive systems with SERVOsoft. Electrical and mechanical.
If online tools don't answer all of your questions, their application support teams are available to visit your factory, create a recommendation list of STOBER products, troubleshoot unique applications, and more. Let them save you time and resources by taking on the heavy lifting when it comes to sizing, installation, and training.
More Information
Related Story
To protect against internal moisture buildup, many NEMA wash-down motors have weep holes in the mounting face. But when a motor is in a wash-down environment, those weep holes become a liability. The gearbox can retain liquids when water and other cleaning chemicals enter through the weep holes. Over time, this will rust the internal components and affect the lubrication within the gearbox, which results in premature failure.
If the motor and gearbox are not suited for the environment or sanitation regimen, water can also enter through the output seals or the seal between the motor and the gearbox. In addition to the weep holes, breathers or vents can also allow for ingress.