VFDs for High-Speed Compressors: 5 Things You Should Know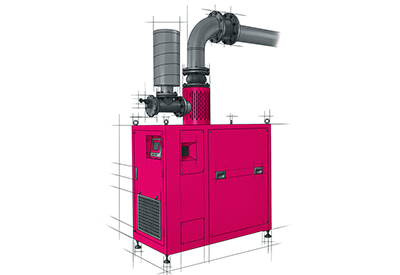 November 2, 2020
By Jonathan Bullick, National Sales & Marketing Manager, KEB America Inc.
Many engineering advancements provide small incremental gains of efficiency, cost, and functionality. However, some engineering milestones provide giant leaps of improvement. Once commercialized, these are "game changer products" that can help redefine entire industries. Centrifugal turbo compressors and blowers are one such development. They offer double digit efficiency gains compared to positive displacement and multistage centrifugal compressors.
At the core of the technology is a high speed motor, a high speed VFD to control the motor, and special bearings that are capable of supporting the motor in excess of 20,000 rpm.
With over 100,000 high speed installations globally, KEB is a leading provider of high speed drive technology for compressors and blowers. This article describes some considerations as you look to design a high speed compressor system.
1. The Use of a Special High Speed VFD
The VFD used to control the high-speed motor must be capable of a high-frequency output. KEB offers drives that output up to 2000Hz, which equates to 120,000 rpm with a 2-pole motor design.
Most standard off-the-shelf drives will not be able to do this for a number of reasons. First, they lack the correct IGBTs and power stage hardware that are capable of high-frequency switching. This is especially true at the large current ratings that commercial turbo compressors need.
Second, high-frequency switching of the IGBTs will create a lot of heat — and that must be designed for. KEB has developed special heatsink solutions that handle this increased heating. This includes liquid cooled VFD heatsinks that can be quite advantageous for large-current, high-frequency applications.
Finally, simply providing a basic V/Hz output might not yield the best results – as measured by the motor temperature and control stability. For high-speed applications, KEB often uses our proprietary SCL control software which provides exceptional torque and speed response at high speeds. SCL also provides excellent control stability across the entire speed range. This is a prime example where customers benefit from KEB's 40 years of motor control algorithm know-how.
As a side note, the US Bureau of Industry and Security and other governments define "high speed" as a VFD capable of 599Hz and above. These high-speed VFDs are a controlled product since they are a critical technology used in certain nuclear processes. Off-the-shelf products will likely be rated at 599Hz or less. Special high-speed VFDs are capable of higher output frequencies that often need to be "unlocked" — and come with a controlled part number.
2. Approach From a System View
The high-speed motor and drive should always be viewed together as a system. Changing the parameters of one likely affects the other. Hypothetically, if you want the same speed, changing from a 2-pole motor to a 4-pole motor means the drive output frequency must double. Doubling the output frequency of the VFD likely means the drive must be upsized to handle more internal switching losses. Like many things in engineering, there are tradeoffs to be considered.
A common goal in any high-speed development is to reduce motor heating. A motor that runs cooler will have a longer operating lifetime. A cooler running motor will also increase the operating lifetime of the critical and expensive airfoil or magnetic bearings.
KEB also offers our own line of Sine Wave filters that can be paired together with our drives. The benefit of a Sine Wave filter is that it filters the high-frequency PWM output and provides a low harmonic sinusoid waveform to the motor windings. Our motor partners typically use Sine Wave filters because it reduces the motor temperature at a given power output. Again, lower motor temperatures have long term benefits for motor and bearing lifetime.
3. Choose a Drive Partner That Can Help With Development
The development of a high speed turbo blower likely involves bringing together experts in each discipline. This might include the impeller design expert, the bearing expert, the motor expert, and the drive expert.
KEB brings several things to the table when we can help early in the design process. First, we can assist an OEM in understanding the tradeoffs between motor and drive. For example, we can clarify the system tradeoffs with design changes (e.g., changing motor pole pairs, induction vs. PM motor, air vs. liquid cooled). A better understanding early in the design process will help to more quickly design a product that meets the OEM's target goals.
One powerful tool that KEB uses is our HIL simulation program. HIL stands for Hardware in the Loop and allows us to run simulations on actual control card hardware. The net result is that we can get very accurate simulation data – 99.9% correct – without ever setting foot in a test laboratory. These simulations offer valuable insight into which motor, drive, and filter selections are needed to achieve the required output.
4. North American + Global Production and Engineering
Our North American partners are glad to know that the KEB technology and application engineering knowledge is located at our facility outside Minneapolis, MN. Our high speed drives are manufactured here in our ISO 9001:2015 production. Because our drive products are assembled here in the States, we can help comply with Made in America or Buy American requirements.
What happens if you are not located in North America? KEB has similar application groups that focus on high-speed applications worldwide. Production plants in both Europe and China mean that KEB can accomodate global development and support of high-speed applications worldwide.
5. Choose a Commercially Viable Product
Developing and testing a high-speed drive in a laboratory setting and rolling out a commercial product worldwide are two different things. A commercial product will benefit from choosing components that have been thoroughly tested for EMI and safety. These electrical components should carry certifications like UL, CSA, and CE, which will make the compressor easier to test, certify, and bring to market.
Compressor manufacturers will also benefit from choosing high-speed VFDs that are assembled and tested using automated processes and test cells. Complete traceability with serialization is another important factor in providing the best quality at a large scale.