Q&A With HELU: Industrial Ethernet Cables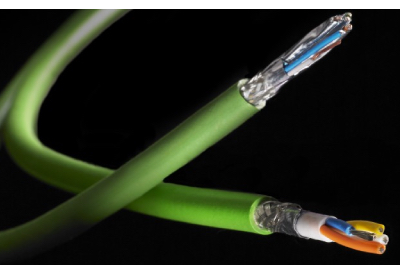 June 6, 2022
Tray rated or not tray rated? That is one of the many questions customers need to understand when selecting the proper Industrial Ethernet cable for their specific application. Knowing the types of approvals required depends heavily on where the cables are to be installed. Making sure your Industrial Ethernet cables are designed for your application and meet the correct approvals will ensure the system provides the most reliable and optimum performance. Regional Sales Director Brian Bookamer shares with us some of the questions he hears in the field regarding Industrial Ethernet cables.
Q: What environmental considerations need to be taken into account in regards to Industrial Ethernet cables?
A: A few of the most common environmental conditions that must be considered are temperature, chemical or oil exposure, and abrasion. However, there are other items to consider that are more application-specific such as flexing cycles or torsion. Knowing the basic environmental conditions helps determine the jacket material that is required such as polyvinyl chloride (PVC), polyurethane (PUR) and fire-resistant, non-corrosive (FRNC). PVC is an inexpensive option that is versatile as it can be used in several configurations. PUR jackets provide a higher degree of chemical resistance and are very elastic, which makes it a good choice for continuous-flex and robotic applications. FRNC offers a halogen-free option with a higher degree of flame retardance.
Q: Are these data cables being installed on the machine, in a cable tray, cable carrier, or in the panel?
A: Knowing how/where the cable will be installed is critical as this affects the cable's design specifications e.g. jacket type, conductor insulation, conductor configuration, etc. These elements correspond directly to the approvals it receives. For example, cables that are designed for static applications are not suitable for continuous-flexing applications.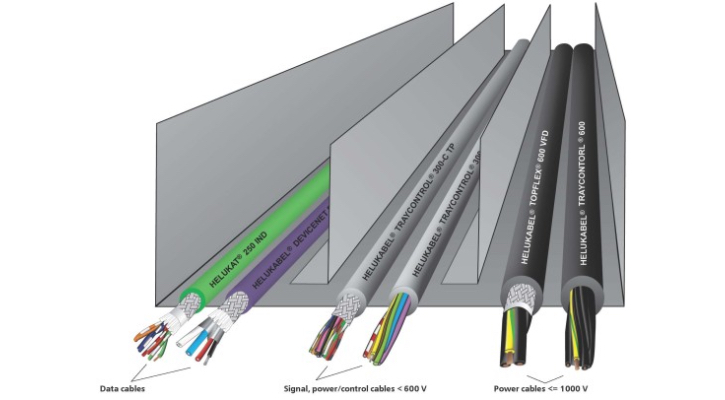 Q: Does Industrial Ethernet cable have to be tray rated to be installed in a cable tray?
A: When readily available cables are hard to find or in cases where lead times are longer than normal, it is helpful to know that in many applications your Industrial Ethernet cables do not have to be tray rated to be properly installed in a cable tray. The reason for this is cables that have a CM or CMG rating meet the FT4 flame test requirements as stated in UL 1581, making them suitable for installation in cable trays. Additionally, they comply with the National Electric Code (NEC) articles that govern cable tray installation – 800.154(D), 392.3(A), and 800.53(E)(1).To quickly summarize, your Industrial Ethernet cables do not have to be tray rated to be installed in a tray if they are placed in the low-voltage/communication section of the cable tray.
Q: Are Industrial Ethernet and PROFINET cables the same thing?
A: Both are 100-ohm impedance cables and while most PROFINET cables are offered in a star-quad, where the diagonal conductors make up the two pair, AWG22 configuration, other Industrial Ethernet cables can be utilized as a part of the system. The term Industrial Ethernet is a term generally used to describe components and cables that are shielded to limit electromagnetic interference (EMI) issues and are constructed to withstand the harsher environments found in industrial applications that are significantly different than a typical office environment. The PROFINET cable products available are simply a way to ensure that these cables meet the industrial requirements set by PROFIBUS & PROFINET International (PI). As always it is best to check with the control system and device manufacturer to verify the cable you have selected meets the minimum speed and data rate requirements.
Q: What network speed/category is right for me?
A: Currently the categories that exist are 5, 5e, 6, 6A, 7, 7A and 8 with data rates ranging between 100Mbit and 40Gbit, depending on the required frequency. Most devices currently utilize speeds of 100Mbit or less, which makes an Industrial Ethernet Cat 5e sufficient. However, some applications require faster data transmission, e.g. quality control visions systems, and would require a higher category. Based on the specific application, you will need to determine what speed your network and control devices require to select the right cable. With technology demands increasing, many customers are beginning to select higher category cables to be installed now to make the network backward compatible because the system is only as good as each component is specified, i.e. cable rated for Cat 7 speeds connected to equipment rated for Cat 5e will only perform at a Cat 5e level.
This table shows the difference between Cat 5 to Cat 8, but jacket materials, cable quality, and other considerations will also need to be considered when finding the right cable to match an application.