Taking the Show on the Road in Canada: Pepperl+Fuchs takes technology right to the users
July 11, 2019
By Owen Hurst
This June the Pepperl+Fuchs road tour made its way through Ontario and Quebec, visiting several automation providers and manufacturing facilities. During one of the stops at a manufacturing facility in southern Ontario I was able to tour the mobile exhibit with Richard Krawczyk, Account Manager of Factory Automation in Canada. Richard has been with Pepperl+Fuchs for over 20 years and has deep knowledge of the automation products being developed by Pepperl+Fuchs as well as the current state of factory automation within Ontario.
My first impression upon walking up to the mobile exhibit was not determined by the catchy graphics, all road trucks are mobile billboards, but it was the level of organization within the vehicle and the Pepperl+Fuchs staff that were engaging each member of the manufacturing facility that came to learn about their products.
I noted to Richard that it was interesting that Pepperl+Fuchs had brought enough team members to really engage on a personal level with everyone that was touring the exhibit. He acknowledged that one of the primary focuses of the trip is to engage with the individuals that use their products everyday, something that they can't always achieve with traditional trade shows but have found great success with on the road. And that means ensuring that you have enough knowledgeable staff members to engage with everyone that visits the mobile exhibit.
This was an interesting point as Pepperl+Fuchs, and others utilizing road tours, have found a way to achieve their goals in a manner that is beneficial to their clients and themselves. At a traditional trade show seldom can more than a few staff members from any one company attend, and very often it is the managers or product purchasers rather than the staff that work with the products on a daily basis.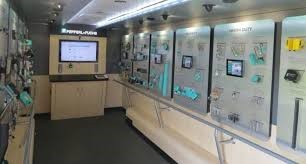 The road tour presents an opportunity to engage individuals that are unable take a day off work to attend a trade show but can get a few minutes to tour a mobile exhibit. It is these individuals that often have deeper technical questions regarding product implementation, and therefore can learn about these products from the Pepperl+Fuchs staff. And likewise, Pepperl+Fuchs can learn about their products from those using them daily. This learning in both directions can be lost at a trade show but is highly prevalent during on-site visits.
Because of the ability to reach a wider audience many have noted how the mobile exhibit provides them additional awareness of the range of Pepperl+Fuchs' products, as well as presenting new ideas for their own machine designs.
Richard noted that the most common line he hears from those touring the mobile exhibit is, "we know Pepperl+Fuchs for high quality inductive sensors that last in harsh environments but didn't realize P+F had such a broad product portfolio of automation solutions."
The mobile exhibit provides details on a wide range of products, using modern displays that are equipped with over 100 application and product videos.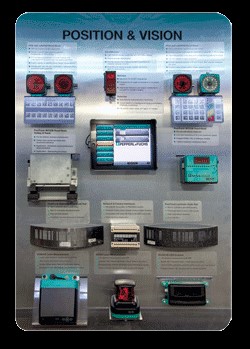 The Sensor product lines displayed include:
– Proximity
– Inductive Position
– Encoders
– Connectivity
– Photoelectric
– Fiber Optic & Slot Photoelectric
– Advanced Photoelectric
– Identification
– AS-Interface
– Ultrasonic
– Harsh Duty
– Position & Vision
– IO-Link
I myself found particular interest with the Position & Vision line as much discussion of late is on the future methods of positioning, with rapidly advancing automated production lines and the implementation of Automated Guided Vehicles.
Automated manufacturing is increasing the size and complexity of track systems that move components throughout facilities, requiring new methods of tracking. Pepperl+Fuchs presented several simple and effective options to ensure accuracy in tracking, including their Data Matrix Code Tape and their PosiTrack Laminate Code Rail. The Code Rail is particularly interesting as it can be designed to customer-specified lengths and possesses a high mechanical flexibility.
The PGV and safePGV Read Head also caught my attention as they deliver multiple automation functions in one sensor. They utilize absolute position code tape and coloured lane guidance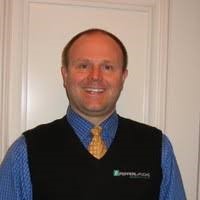 with a 0.2mm absolute position in X and Y axis and the control codes initiate starts, stops and speed control. These products and others certainly made the mobile exhibit highly valuable to both OEM machine builders and manufacturers maintaining and updating their systems, and in a manner that ensured all staff were able to learn about new products and solution offerings.
We hope that many in Ontario and Quebec were able to learn from Pepperl+Fuchs' mobile exhibit, and that next year even more take advantage of the value of having these products and solutions exhibited to them at their place of work.
Richard Krawczyk
Pepperl+Fuchs Account Manager – Ontario